Milwaukee Seal Coating Contractors
How Wisconsin Seal Coating Works
Seal coating is a practice that can save you considerable amounts of money over the life of your asphalt, and extend the life expectancy of the asphalt pavement by 200% or more. Asphalt pavement, also referred to as "blacktop", is exposed to many harsh and extreme weather conditions throughout Wisconsin and Illinois; all of which reduce the life of your asphalt pavement if not maintained properly. Seal coating and crack filling are great ways to get the most out of your asphalt pavement. Milwaukee seal coating has many benefits besides the protection of your investment. Milwaukee asphalt seal coating will prevent UV light damage to the surface of your pavement, fill the tiny cracks and voids that water can sneak through, and conceal any "patch work" by making everything a uniform color. Seal coating will make your old asphalt driveway or parking lot look as good as new.



Asphalt sealer can be applied with a brush, a squeegee, or by spraying. Different methods of application are appropriate for different jobs, but the job of the sealer is always the same: to protect the underlying asphalt from the elements, and to beautify the pavement to make it more aesthetically pleasing. Asphalt sealer comes in many forms, and all are not created equal. For example: The blacktop sealer you can buy from local hardware stores is not commercial grade sealer, and usually is only designed to make your driveway look black again. It lacks many qualities of the premium commercial grade sealer MUDTeCH™ applies. The sealer MUDTeCH™ uses in Milwaukee and Madison differ as well. In Milwaukee and the surrounding areas, we generally recommend a coal tar based sealer with silica sand and latex polymer additive added in the recommended ratio. In Madison and in Dane County the mixture is very similar, but in place of the coal tar sealer, asphalt emulsion sealer is the base. Asphalt emulsion sealer is supposed to be more environmentally friendly and is an option throughout the state and in northern Illinois but not generally used due to its lower wear resistance. In Dane County, asphalt emulsion sealer is the only option mandated by county ordinance.
How MUDTeCH™ Seal Coating Differs From Others
MUDTeCH™ applies asphalt sealer in the nationally recommended ratios and always adds latex polymer additive to prevent tracking and increase the life of the sealer making the seal coat last considerably longer. Other Wisconsin sealcoating companies offer Milwaukee asphalt repair services at a lower price than MUDTeCH™. THERE IS A REASON THEY CAN CHARGE LESS. Many other companies out there water down their sealer and don't add the latex polymer additive or silica sand. The extra water makes the finished seal coat much thinner and lasts a very short time. It is not uncommon for us to get calls to sealcoat a parking lot or driveway that has already been seal coated this year and the business or individual has to have it done again because the sealer already wore off. Lack of the latex additive is a common problem with tracking of the sealer where the seal coat is brought into the home or business on shoes and can destroy carpeting and other flooring, costing thousands in clean up or replacement. There is no way to see if these additives have been added and you are left to trust the company if they say they mixed their sealer to the recommended ratios. That is just another reason you should choose a reputable company like MUDTeCH™ so you don't have to worry about your sealer wearing out prematurely or having the sealer tracked into your home or business.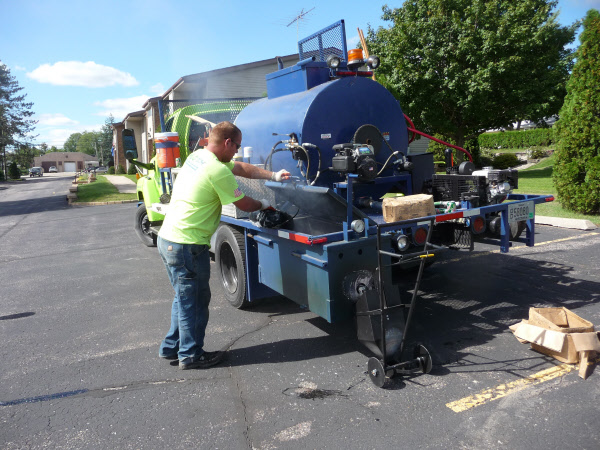 Wisconsin Asphalt Seal Coating Services
One of the most important aspects of successfully running a business or attracting customers is a great first impression. Your logo and your parking lot is the front door to any passerby. An uneven, split, cracked, and heavily damaged parking lot is unappealing to customers and can even drive potential clients away. Milwaukee seal coating services from the asphalt experts at MUDTeCH is sure to turn your damaged, decaying parking lot into a functional and usable surface once again. We will use as much of your original pavement as possible, ensuring your parking lot is representative of the quality services and products offered by your business.
Milwaukee asphalt seal coating services from MUDTeCH are designed to dramatically improve the appearance of your asphalt parking lot or driveway. Asphalt sealcoating fills minor voids which can eventually become deep cracks, fissures, and potholes. Sealing these cracks, holes, and splits provides a protective layer capable of minimizing damage to your asphalt surface resulting from moisture intrusion, ice damage, and raveling (the gradual loss of aggregate materials).
Milwaukee Asphalt Seal coating Process
Step 1
If your lot has soft spots and above average crumbling damage to the existing asphalt surface, MUDTeCH's professional Milwaukee asphalt repair specialists can remove and repair the severely
damaged areas in your parking lot. In many cases, MUDTeCH's Milwaukee sealcoating experts use our infrared heating trucks to restore isolated damage for a seamless repair. The patched areas are filled to the same level as the rest of the parking lot, ensuring a smooth, uniform surface. Consult a MUDTeCH estimator for a cost free diagnosis of your particular problem.
Step 2
If your lot or driveway is contracted for crack filling MUDTeCH efficiently handles the task. After surface damage has been taken care of, MUDTeCH's team of Waukesha asphalt sealcoating experts clean the dust, dirt, rocks, and weeds out of the cracks. We then apply hot rubber "crack filler" to effectively seal the area and prevent further moisture penetration for many years to come. City engineers and some customers often want the extra flexibility and improved adhesion available with the application of extra crack filler in the original crack. This can be accomplished by widening the original crack with a pavement router. The extra cost involved for the routing is practical for heavy duty type situations. Most Milwaukee driveway sealcoating applications require routing.
Step 3
After any patching or crack filler has been applied, the MUDTeCH Milwaukee asphalt sealcoating experts completely clean every inch of your parking lot. Extremely thorough cleaning requires blowing, sweeping, and shoveling, and oil spot prep to remove debris from the surface of the lot. Removing this loose debris provides the best adhesion for the seal coat. Applying the seal coat to a business open for customers can be a challenge, but MUDTeCH can apply some seal coat now and some later, providing our customers with the opportunity to stay open and continue regular business. Driveways are usually best to do all at once.
Step 4
If you're interested in "dressing up" your pavement, nothing is going to look better on top of your new seal coat and patch work than new parking lines. MUDTeCH can dress up your lot with a variety of options to maximize parking spaces, safety, and curb appeal. The MUDTeCH Milwaukee pavement repair process can save tens of thousands of dollars when compare to the cost of all new pavement for any home, business, or municipality.
Milwaukee Concrete Curb and Sidewalk Repair with Sealcoating Services
When compared to asphalt, concrete surfaces are just as prone to degradation and damage. An important aspect of the sealcoating process involves the repair or replacement of your existing concrete curbs or sidewalks.


Milwaukee Seal Coating Benefits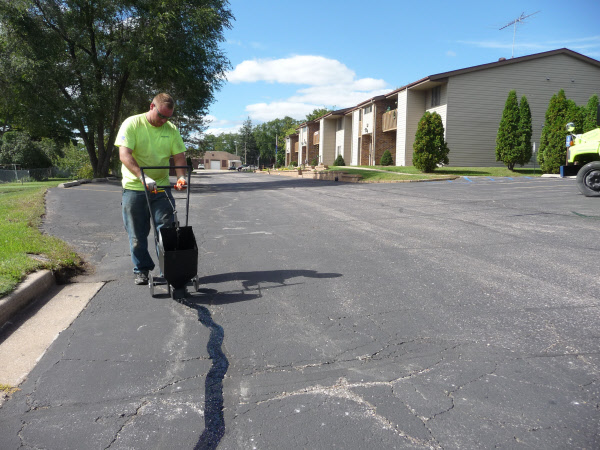 Regular Wisconsin asphalt seal coating is necessary to reduce Wisconsin weather damage and extend the life of your asphalt. Wisconsin seal coating applications should be applied every other year for maximum resilience and stability of your asphalt. Replacing a Milwaukee asphalt surface can cost up to twenty-five times as much as Milwaukee seal coating. Seal coating and crack filling from MUDTeCH™ can extend the life of your asphalt pavement by as much as 300%! Asphalt seal coating is also resistant to oil and gas, and slows the impact our Wisconsin climactic conditions usually have on asphalt.

The elasticity of asphalt pavement is one of its best features. It can flex slightly with the freeze and thaw and remain undamaged. Without seal coating, asphalt is left unprotected from salt, water, and UV light rays from the sun. Over time the asphalt becomes more brittle, thus reducing the asphalt's natural flexibility. Without any flexibility, the asphalt pavement will begin to develop hairline cracks caused by the elements. These cracks allow dirt, water, and other foreign materials to penetrate the surface, which can lead to rapid deterioration of the asphalt (i.e. potholes). In order to make your asphalt pavement last as long as possible, regular Madison and Milwaukee seal coating applications are needed to protect the asphalt and keep it pliable.

Winter is Wisconsin and Illinois' pavements' worst enemy. Salt oxidizes the asphalt and water expands when frozen. They will damage the roadbed and the surface of the asphalt. The continual freezing and thawing cycle can ruin asphalt very quickly. Freezing and thawing can rapidly create cracks and potholes. Plows scraping across loose asphalt can remove pieces and expand cracks in pavement. Patching any holes, replacing areas with loose asphalt, filling cracks with hot tar, and sealcoating driveways and parking lots will prevent further damage from the harsh winter weather experienced here in Wisconsin and Illinois.

Water is one of the most harmful climactic elements to asphalt pavement. Water that collects in the pores and cracks of asphalt can freeze, reducing the structural integrity of the asphalt pavement and even harboring the growth of moss, mushrooms, and other plants, rapidly accelerating the deterioration of the pavement. Having MUDTeCH™ fill any cracks with hot tar crack filler and sealcoat any asphalt surfaces with premium commercial grade seal coat will minimize the damage of water and extend the life of the pavement.

Sunlight will bleach out the asphalt oil from the asphalt pavement making it look old and gray. Over time, the sun's harmful UV rays will make the asphalt more brittle and the asphalt will crack more easily. Seal coating the asphalt pavement will protect the surface from the sun's rays and make the asphalt black again, looking as good as new.
Asphalt driveway and parking lot repairs or asphalt replacements can get expensive if you neglect your pavement. Utilize the seal coating experience of MUDTeCH™ and you'll instantly see the difference a seal coating application can make to your Wisconsin or Illinois blacktop driveway, sidewalk, or parking lot.

MUDTeCH™ uses hot-pour rubberized crack and joint sealing products on Milwaukee and Madison residential, commercial, and industrial parking lots, driveways, and streets, to ensure your asphalt pavement lasts as long as possible. By hiring MUDTeCH™ to clean, crackfill, sealcoat, and patch badly deteriorated areas, you can reduce the harmful effects of winter weather, water, sunlight, oil and gas on the asphalt pavement and effectively extend the life of your pavement. Whether you live in Milwaukee, Madison, or anywhere within the MUDTeCH™ service area, adding protection and curb appeal to your home or business by seal coating your pavement is a good decision.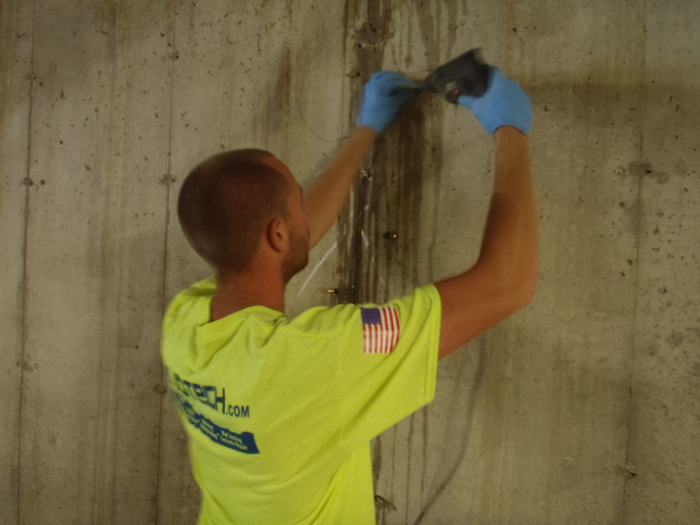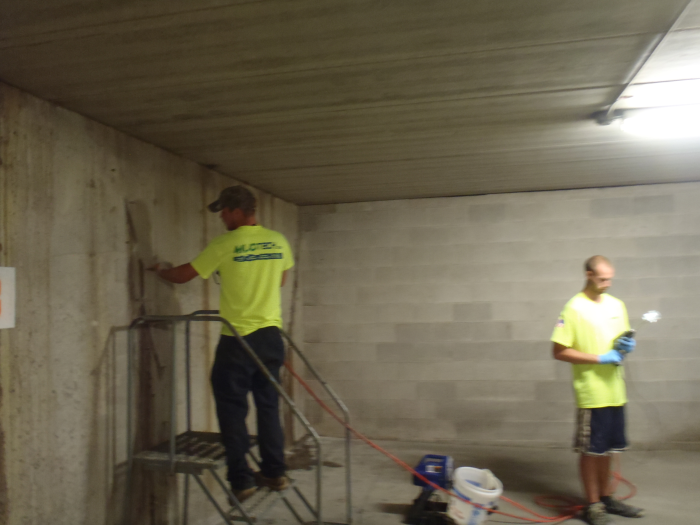 The MUDTeCH Milwaukee mudjacking contractors invite you to check out our featured project gallery. From asphalt repair and sealcoating to concrete installations and basement waterproofing, depend on MUDTeCH.
View Our Project Gallery
Beaver Dam WI
Belleville WI
Beloit WI
Brodhead WI
Brookfield WI
Burlington WI
Cedarburg WI
Clinton WI
Columbus WI
Cross Plains WI
DeForest WI
Delafield WI
Delevan WI
East Troy WI
Edgerton WI
Elkhorn WI
Evansville WI
Fitchburg WI
Fort Atkinson WI
Franklin WI
Germantown WI
Grafton WI
Greenfield WI
Greendale WI
Hartford WI
Hartland WI
Horicon WI
Janesville WI
Jackson WI
Jefferson WI
Juneau WI
Kenosha WI
Kewaskum WI
Lake Geneva WI
Lake Mills WI
Lodi WI
Madison WI
Marshall WI
Mayville WI
McFarland WI
Menomonee Falls WI
Mequon WI
Middleton WI
Milton WI
Milwaukee WI
Monroe WI
Mukwonago WI
Muskego WI
Mt. Horeb WI
New Berlin WI
Oconomowoc WI
Oregon WI
Ozaukee WI
Paddock Lake WI
Pardeeville WI
Pleasant Prairie WI
Port Washington WI
Portage WI
Poynette WI
Racine WI
Saukville WI
Slinger WI
South Milwaukee WI
Stoughton WI
Sturtevant WI
Sun Prairie WI
Sussex WI
Twin Lakes WI
Union Grove WI
Verona WI
Waterford WI
Waterloo WI
Watertown WI
Waukesha WI
Wauwatosa WI
Windsor WI
Winthrop Harbor WI
West Bend WI
West Allis WI
Whitewater WI
Williams Bay WI
Antioch IL
Belvidere IL
Grayslake IL
Gurnee IL
Harvard IL
Lake Forest IL
Lake Villa IL
Loves Park IL
Machesney Park IL
McHenry IL
North Chicago IL
Poplar Grove IL
Rockford IL
Rockton IL
Roscoe IL
South Beloit IL
Wadsworth IL
Waukegan IL
Winnebago IL
Zion IL