Commercial Mudjacking, Concrete, and Asphalt Repairs: Why Appearances Matter
Posted on:
August 11, 2016
Creating Safer Businesses in Wisconsin and Illinois
You work hard to make your business successful. You put in the time, the money, and the effort to leave your customers more than satisfied. Yet business is stalling. The reason? Appearances rather than service mean more than anything in this day and age. If your business is surrounded by cracked sidewalks or a pothole filled parking lot, you're turning away potential customers.
Fortunately, MUDTeCH has provided many businesses across Wisconsin and Illinois with the essential mudjacking, concrete and asphalt repairs they need to succeed. Learn more about how these three services will improve your business!
Mudjacking for Wisconsin Businesses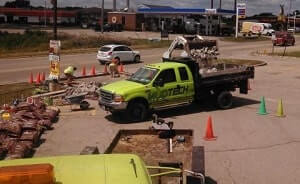 Uneven floors are not just unsightly, they are dangerous. Customers can easily trip and injure themselves, leaving you liable. Vehicles can also be damaged from repeatedly driving over uneven parking lots or driveways. Mudjacking services from MUDTeCH correct the level of your concrete features.
Our mudjacking process uses a cement hybrid mix to raise concrete slabs to form a level plane. There's no need to tear out the existing concrete and start from scratch. This system saves property owners an average to 50%-70% of what they would have spent on pouring new concrete. You can save money while making your concrete look good as new!
Concrete Repair and Installation Services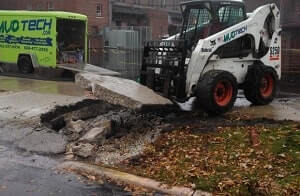 If your current driveway, sidewalk, or parking lot needs a complete overhaul beyond mudjacking, concrete installation is the way to go. Dirt and gravel lots especially benefit from being replaced with poured concrete from MUDTeCH. Not only will your business look better, concrete will last longer and is safer for visitors to drive and park on.
Poured concrete will last for years, saving you time and money when it comes to future maintenance costs. At MUDTeCH, we have created everything from standard sidewalks to custom wheelchair ramps for businesses across Wisconsin and Illinois.
Commercial Asphalt Repair in Illinois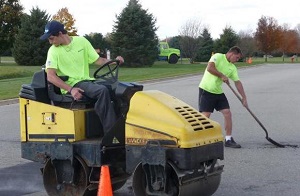 Nothing is more annoying to drivers than swerving to avoid potholes. Even small holes in asphalt can cause incredible damage to vehicles by puncturing tires, breaking suspension, or causing misalignment to the steering system. Some of these repairs are cheap, some are more costly. You could be liable for these damages if the pothole was in your driveway or parking lot. It won't be long until customers and clients avoid visiting in order to protect their cars.
Rather than pay legal fees later, repair your asphalt now with the expert services of MUDTeCH. Our contractors use Remove and Replace, Infrared, and Skin Patching to provide different levels of repair services for damaged asphalt. Skin Patching is a temporary fix, ideal for seasonal business owners who plan on getting a full repair later. Our longest lasting solution, Remove and Replace, is more involved by cutting out the "bad" asphalt before filling in the pothole or crack.
Better Work, Better Results
At MUDTeCH, we believe in quality in all our work. With our competitive prices and free estimates, we are the best choice for your mudjacking or concrete/asphalt repairs. We will work efficiently to avoid blocking your driveway or parking lot, letting you continue to do business even during construction.