Madison and Milwaukee Commercial Concrete and Asphalt Services
Wisconsin Asphalt and Concrete Repair Contractors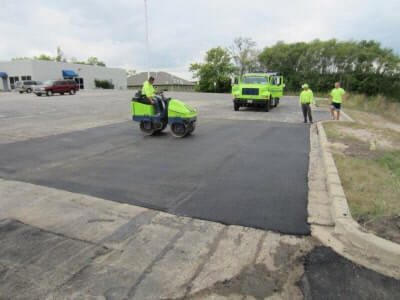 Damaged, broken, twisted, and cracked asphalt and concrete surfaces, truck ramps, curbs, and sidewalks are more than just an eyesore. These damaged surfaces can affect the safety and mobility of your customers and tenants of apartment buildings or condominium complexes. Don't let worn and torn asphalt or concrete affect your business or the happiness of your tenants. Hire MUDTeCH, the best Milwaukee asphalt contractors and Madison concrete repair specialists, to professionally repair or install new asphalt and concrete systems for your parking lot, sidewalks, truck ramps, and loading docks.

MUDTeCH proudly services the asphalt and concrete needs of apartment complexes, condominiums, municipalities, and industrial facilities throughout Southeastern Wisconsin. Our asphalt repair experts will professionally remove and replace damaged sections of your parking lot, transforming a cracked and pothole-filled parking lot into a smooth and attractive surface. Many businesses or apartment complex owners choose MUDTeCH's Milwaukee asphalt sealcoating services for their parking lots, ensuring a fresh, clean look and years of reliable stability.
Madison Concrete Curb, Sidewalk, and Wheelchair Ramp Repair and Installation Experts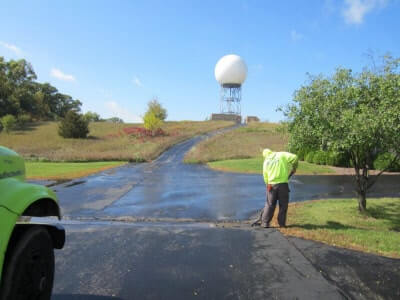 An uneven wheelchair ramp can make access difficult for the physically impaired while a cracked and sinking sidewalk or concrete curb can lead to drainage issues and complaints from tenants. MUDTeCH's Madison concrete contractors offer the best concrete curb, sidewalk, and wheelchair ramp repair and installation services available in Southeastern Wisconsin. We will remove and pour brand new solid concrete slabs and install durable, high quality concrete curbs for parking lots, apartment complexes, city sidewalks, and more.
Milwaukee Concrete Loading Dock Repair and Installation Services
Damaged, cracked, and sinking concrete loading docks and truck ramps can cause many issues for your shipping and receiving departments. Lining truck beds up with the loading dock's surface is not only vital for making the loading and unloading process simple and quick. It's also an important part of keeping your employees and your shipments safe. The Milwaukee loading dock repair specialists at MUDTeCH will expertly repair, replace, or raise your loading dock to the right level, ensuring easy and safe loading and unloading and an easier entrance and exit for your truck drivers.
Wisconsin Mudjacking Services for Concrete Sidewalks, Curbs, and Loading Docks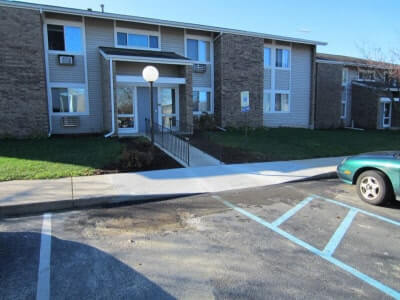 MUDTeCH offers the best Milwaukee mudjacking services for businesses, industrial centers, and more. Mudjacking, also known as slabjacking, raises sunken or twisted concrete slabs back to their original spot without complete removal and replacement. When you want to preserve your budget, choose to mudjack "good" slabs and save yourself the hefty expense of new concrete, depend on the Wisconsin mudjackers at MUDTeCH.
Contact the best Milwaukee asphalt contractors today for all your concrete and asphalt repair and installation needs for apartments, condominiums, municipalities, and industrial complexes throughout Southeastern Wisconsin.
MUDTeCH invites you to check out this successful commercial helical pier installation. Our helical piering contractors provided a permanent deep foundation solution for this industrial building. From asphalt repair and sealcoating to concrete installations and basement waterproofing, you can depend on MUDTeCH.
View Our Project Gallery
Bayside, WI
Bay View, WI
Beaver Dam WI
Belleville WI
Beloit WI
Brodhead WI
Brookfield WI
Brown Deer, WI
Burlington WI
Butler, WI
Caledonia, WI
Cedarburg WI
Clinton WI
Columbus WI
Cross Plains WI
Cudahy, WI
DeForest WI
Delafield WI
Delevan WI
East Troy WI
Edgerton WI
Elkhorn WI
Elm Grove, WI
Evansville WI
Fitchburg WI
Fort Atkinson WI
Foxpoint, WI
Franklin WI
Germantown WI
Glendale, WI
Grafton WI
Greenfield WI
Greendale WI
Hales Corners, WI
Hartford WI
Hartland WI
Horicon WI
Janesville WI
Jackson WI
Jefferson WI
Juneau WI
Kenosha WI
Kewaskum WI
Lake Geneva WI
Lake Mills WI
Lannon, WI
Lisbon, WI
Lodi WI
Madison WI
Marshall WI
Mayville WI
McFarland WI
Menomonee Falls WI
Mequon WI
Middleton WI
Milton WI
Milwaukee WI
Monroe WI
Mukwonago WI
Muskego WI
Mt. Horeb WI
New Berlin WI
Oak Creek, WI
Oconomowoc WI
Oregon WI
Ozaukee WI
Paddock Lake WI
Pardeeville WI
Pewaukee, WI
Pleasant Prairie WI
Port Washington WI
Portage WI
Poynette WI
Racine WI
River Hills, WI
Saukville WI
Shorewood, WI
Slinger WI
South Milwaukee WI
St. Francis, WI
Stoughton WI
Sturtevant WI
Sun Prairie WI
Sussex WI
Theinsville, WI
Twin Lakes WI
Union Grove WI
Verona WI
Waterford WI
Waterloo WI
Watertown WI
Waukesha WI
Wauwatosa WI
Windsor WI
Winthrop Harbor WI
West Bend WI
West Allis WI
Whitefish Bay, WI
Whitewater WI
Williams Bay WI
Antioch IL
Belvidere IL
Grayslake IL
Gurnee IL
Harvard IL
Lake Forest IL
Lake Villa IL
Loves Park IL
Machesney Park IL
McHenry IL
North Chicago IL
Poplar Grove IL
Rockford IL
Rockton IL
Roscoe IL
South Beloit IL
Wadsworth IL
Waukegan IL
Winnebago IL
Zion IL