Wisconsin Asphalt and Concrete Repair Contractors
Damaged, broken, twisted, and cracked asphalt and concrete surfaces are more than just an eyesore, they can affect the safety and mobility of your customers and tenants. Don't let broken or uneven asphalt or concrete walkways and ramps make your business look bad or, worse yet, cause you to be sued for a trip and fall injury. Hire MUDTeCH, the best Milwaukee asphalt contractors and Madison concrete repair specialists, to professionally repair or install new asphalt and concrete systems for your parking lot, sidewalks, truck ramps, and loading docks.
MUDTeCH repairs and installs asphalt and concrete at apartment complexes, condominiums, municipalities, and industrial facilities throughout southeastern Wisconsin. Our asphalt repair experts will remove and replace damaged sections of your parking lot, transforming a cracked and pothole-filled obstacle course into a smooth, attractive surface. Many businesses and apartment complex owners also choose MUDTeCH's Milwaukee asphalt seal coating services to preserve their parking lots for years of reliable stability.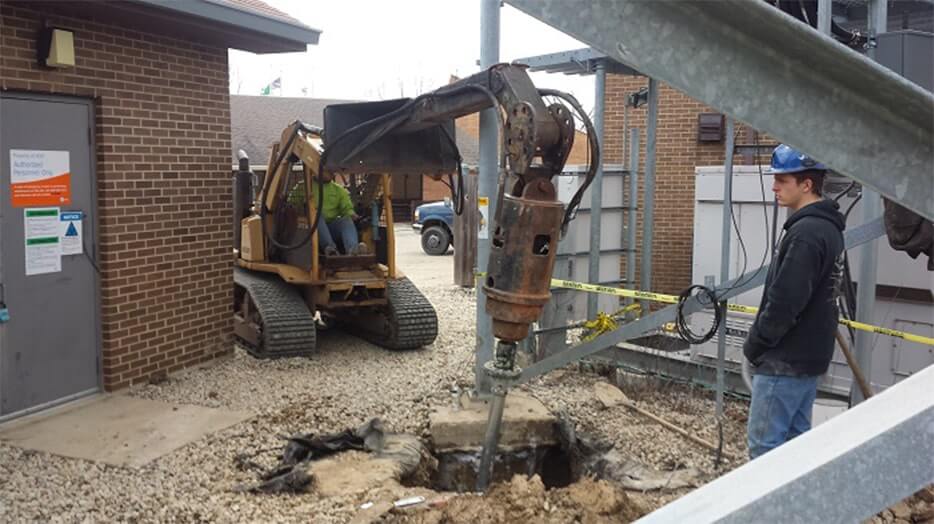 Madison Concrete Curb, Sidewalk, and Wheelchair Ramp Repair and Installation Experts
An uneven wheelchair ramp can make access difficult, or even hazardous, for the physically impaired. A cracked and sinking sidewalk can lead to drainage issues and complaints from tenants. MUDTeCH's Madison concrete contractors offer the best concrete curb, sidewalk, and wheelchair ramp repair and installation services in southeastern Wisconsin. We remove damaged structures and pour new concrete slabs and curbs for parking lots, apartment complexes, city sidewalks, and more.
Milwaukee Concrete Loading Dock Repair and Installation Services
Damaged, cracked, and sinking concrete loading docks and truck ramps can cause many issues for your shipping and receiving departments. Lining truck beds up with the loading dock's surface is not only vital for facilitating loading and unloading, it's also important for keeping your employees and your shipments safe. The Milwaukee loading dock repair specialists at MUDTeCH will repair, replace, or raise your loading dock to the right level, ensuring easy and safe loading and unloading and an easier entrance and exit for truck drivers.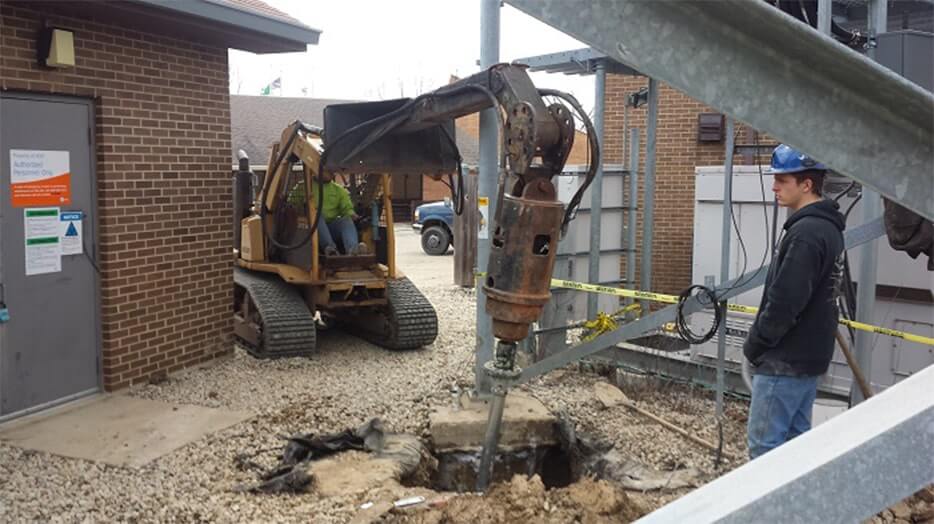 Wisconsin Mudjacking Services for Concrete Sidewalks, Curbs, and Loading Docks
MUDTeCH offers the best Milwaukee mudjacking services for businesses, industrial centers, and commercial establishments of all types. Mudjacking, also known as slabjacking, raises sunken or twisted concrete slabs back to their original position, thereby eliminating the need to completely remove and replace concrete. Choosing to mudjack sunken concrete that is in otherwise good shape instead of replacing it saves businesses thousands of dollars, and the finished work done by MUDTeCH remains stable for many years.
Contact us today for all your concrete and asphalt repair and installation needs for apartments, condominiums, municipalities, and industrial complexes throughout Southeastern Wisconsin.
Additional Commercial Services From MudTech
MUDTeCH™ does more than install helical piers. We provide a variety of commercial services across the Midwest, including: