Natural Lake Contractors in Wisconsin & Illinois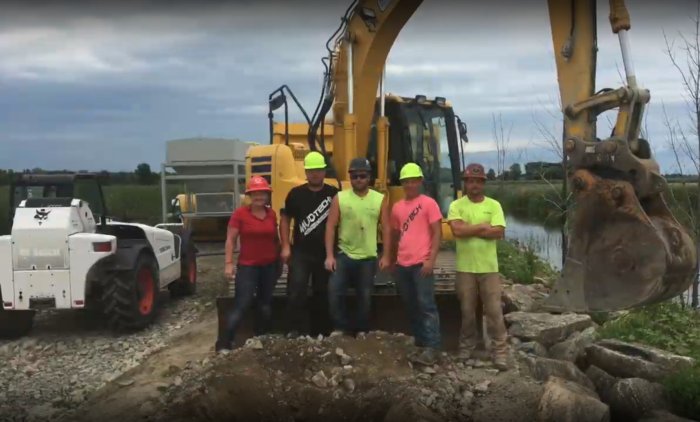 The professional digging services at MUDTeCH have constructed landscape spaces for homes and businesses alike. With professional resdential concrete services (as well as commercial concrete services) and slurry wall construction. We're dedicated to fulfilling our customer's landscape vision with our professional digging and pond mapping services. We engineer and excavate natural areas for:
Garden Ponds
Artificial Lakes
Fish Farming Ponds
Large Scale Fountains
Natural Pools
Koi Ponds
Fishing lakes
and more!

Residential Lake Contractors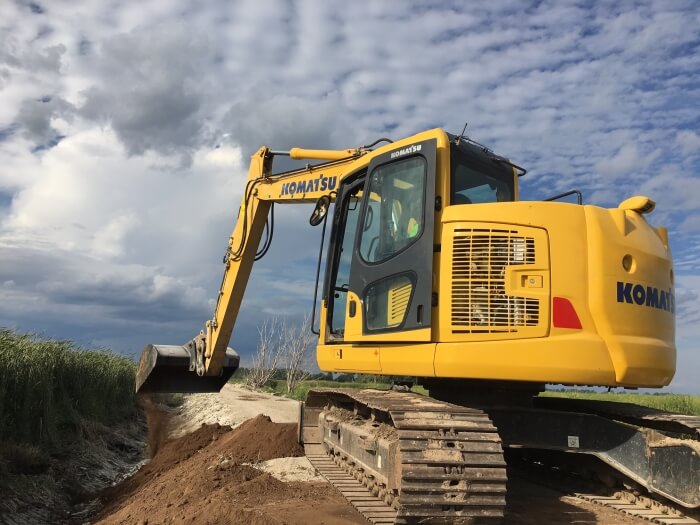 With a full team of civil engineers, we're ready to tackle any landscaping renovation for Wisconsin homes. We specialize in site preparation for artificial lake excavation and construction.
Our professionals look for specific topographic information during initial construction, such as:
Earth zones optimal for digging
Depth necessary to fit client needs (Like fish)
Alternative water sources for dry ponds
Drainage construction
Liner requirements
Environmental details specific to your property
We'll research any restrictions your ideal buildign space might have and whether that will affect whether liners will be necessary for the type of soil on your property, water sources necessary for ponds or lakes, and whether the selected area is suited for the type of lake you want. We'll cover all the heavy-duty thinking, and leave the design aspect up to you and your landscaper.
Fishing Pond Excavation Company
Turn your backyard into the perfect fishing spot with professional contractors at your side. MUDTeCH provides pond mapping services to coordinate your vision with what's possible: our engineers route the waterway paths necessary to successfuly excavate a small or large-scale fishing pond for residential or commercial spaces.
Commercial Fountain Construction
Largescale fountain digging for businesses requires professional engineers to map out specific structural needs, as well as a dedicated team of constructors to dig out the appropriate dimensions.
These structures are built to last years: ensure that the base of your construction is properly measured and dug out with the experienced services from MUDTeCH.
Pond Construction Service Areas
MUDTeCH provides construction services in Wisconsin cities and towns, including:
Milwaukee
Madison
Eau Claire
Appleton
Oshkosh
Green bay
And excavation services in Northern Illinois, including:
Zion
Rockford
Lake Forest
Northern CHicago
Gurnee
and beyond!
As a full civil engineering firm, we will travel throughout the Midwest to help you quote and complete your artificial lake construction job in Illinois, Wisconsin, Minnesota, Michigan, Indiana, and Iowa.
Existing Pond or Lake Enlargment Company
If you have an existing natural lake or pong and want to enlarge it, MUDTeCH can help with this, too. We can easily dredge and widen existing lakes and ponds with our heavy duty equipment--without destroying your property. Enlarge your natural lake or pond with MUDTeCH to ensure you get the the full civil engineering team behind the excavators.
Contact MUDTeCH for more pricing information and to get your quote today.
Related Services available from MUDTeCH
MUDTeCH invites you to check out this successful commercial helical pier installation. Our helical piering contractors provided a permanent deep foundation solution for this industrial building. From asphalt repair and sealcoating to concrete installations and basement waterproofing, you can depend on MUDTeCH.
View Our Project Gallery
Bayside, WI
Bay View, WI
Beaver Dam WI
Belleville WI
Beloit WI
Brodhead WI
Brookfield WI
Brown Deer, WI
Burlington WI
Butler, WI
Caledonia, WI
Cedarburg WI
Clinton WI
Columbus WI
Cross Plains WI
Cudahy, WI
DeForest WI
Delafield WI
Delevan WI
East Troy WI
Edgerton WI
Elkhorn WI
Elm Grove, WI
Evansville WI
Fitchburg WI
Fort Atkinson WI
Foxpoint, WI
Franklin WI
Germantown WI
Glendale, WI
Grafton WI
Greenfield WI
Greendale WI
Hales Corners, WI
Hartford WI
Hartland WI
Horicon WI
Janesville WI
Jackson WI
Jefferson WI
Juneau WI
Kenosha WI
Kewaskum WI
Lake Geneva WI
Lake Mills WI
Lannon, WI
Lisbon, WI
Lodi WI
Madison WI
Marshall WI
Mayville WI
McFarland WI
Menomonee Falls WI
Mequon WI
Middleton WI
Milton WI
Milwaukee WI
Monroe WI
Mukwonago WI
Muskego WI
Mt. Horeb WI
New Berlin WI
Oak Creek, WI
Oconomowoc WI
Oregon WI
Ozaukee WI
Paddock Lake WI
Pardeeville WI
Pewaukee, WI
Pleasant Prairie WI
Port Washington WI
Portage WI
Poynette WI
Racine WI
River Hills, WI
Saukville WI
Shorewood, WI
Slinger WI
South Milwaukee WI
St. Francis, WI
Stoughton WI
Sturtevant WI
Sun Prairie WI
Sussex WI
Theinsville, WI
Twin Lakes WI
Union Grove WI
Verona WI
Waterford WI
Waterloo WI
Watertown WI
Waukesha WI
Wauwatosa WI
Windsor WI
Winthrop Harbor WI
West Bend WI
West Allis WI
Whitefish Bay, WI
Whitewater WI
Williams Bay WI
Antioch IL
Belvidere IL
Grayslake IL
Gurnee IL
Harvard IL
Lake Forest IL
Lake Villa IL
Loves Park IL
Machesney Park IL
McHenry IL
North Chicago IL
Poplar Grove IL
Rockford IL
Rockton IL
Roscoe IL
South Beloit IL
Wadsworth IL
Waukegan IL
Winnebago IL
Zion IL