Commercial Concrete Repair and Installation
Adding and Fixing Concrete throughout Wisconsin and Illinois
MUDTeCH™ is one of the most trusted names when it comes to repairing or installing concrete at commercial facilities. From parking lots in Pewaukee to sidewalks in Caledonia, MUDTeCH™ concrete contractors will give you level, quality concrete for affordable prices.
Increase the value of your property or set a new trend with expertly poured and repaired concrete from MUDTeCH™. Our contractors have years of experience to expertly make the concrete features you want while lasting for years to come.

Concrete Installation for a Variety of Businesses
Adding new concrete structures to your business may seem like a lot of work, so MUDTeCH™ is dedicated to making the process as easy as possible. We will help you assess which features would work best for your facility and work around your schedule to keep business moving. Our years of experience means we can create entirely custom concrete patios and sidewalks to your commercial property to better stand out from the competition. An upgrade to the exterior of your building will please existing customers and even attract new customers.
Adding a Concrete Driveway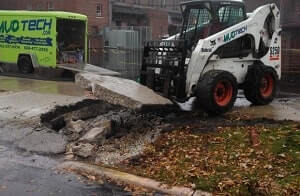 If you currently have a gravel or even a dirt parking lot or driveway, you may be decreasing the value of your business. Having a concrete parking lot provides a more comfortable and stable surface for customers while adding a professional curb appeal. Rely on MUDTeCH™ contractors to install your concrete driveway and you'll immediately enjoy the benefits. Matching concrete walkways and steps leading up to your building can also be installed for a cohesive, polished look.
Concrete Sidewalk Installations offer a Professional Appearance
A concrete sidewalk is important for businesses and the safety of their customers. Whether you're part of a strip mall or have your own lot, no one wants to trudge through grass or step over a broken path to do their shopping or business. Impress clients and customers with a completely level concrete sidewalk installed by MUDTeCH™ concrete contractors.
Create a curved path with a new installation or modify the route of an existing path. Concrete sidewalks installed by MUDTeCH™ contractors are great for apartment tenants to get around or to provide safe school grounds.
Concrete Stairs are Essential for Businesses
Commercial properties on hilly terrains or uneven foundations may find themselves looking lopsided to potential business partners. MUDTeCH™ contractors will repair or replace your existing concrete steps and put your business back in the right direction.
Concrete Repair in Dodge
Say goodbye to cracks and damaged concrete at your business. MUDTeCH™ has a team of concrete experts ready to get started on repairing your property and making your facility look better than new.
Concrete Patios for Restaurants throughout Wisconsin
A patio space provides a nice outdoor space for employee and customer enjoyment. An old, worn down patio with cracked concrete doesn't necessarily leave a good impression. Rely on our expert concrete repair services to bring life back to your commercial patio and make customers and employees happy again.
Concrete Curb Appeal
Curbs can break or crack due to extreme changes in weather, age, or regular wear and tear. Save money with a quality MUDTeCH™ concrete repair on your business curb today. Our expert repair will leave your curb in better condition to last through years of service.
Wheelchair Ramp Repair
Concrete wheelchair ramps are an easy way to make your business accessible to customers and employees who require wheelchairs or power scooters for their mobility. Ramps are also beneficial if you undergo a lot of shipping and receiving, as heavy packages can be wheeled in with ease.
Concrete Installation by the Best
MUDTeCH™ is owned and operated by American soldiers who take pride in all their work. Every job is treated with respect since we know how important your commercial property is. Save time and money with a MUDTeCH™ concrete repair or installation now.
Call MUDTeCH™ Today 262.337.0934 or 608.477.2556
Free Estimates on Mudjacking - Concrete Repair - Asphalt Repair. Serving All of Southeastern Wisconsin and Northeast Illinois.
MUDTeCH invites you to check out this successful commercial helical pier installation. Our helical piering contractors provided a permanent deep foundation solution for this industrial building. From asphalt repair and sealcoating to concrete installations and basement waterproofing, you can depend on MUDTeCH.
View Our Project Gallery
Bayside, WI
Bay View, WI
Beaver Dam WI
Belleville WI
Beloit WI
Brodhead WI
Brookfield WI
Brown Deer, WI
Burlington WI
Butler, WI
Caledonia, WI
Cedarburg WI
Clinton WI
Columbus WI
Cross Plains WI
Cudahy, WI
DeForest WI
Delafield WI
Delevan WI
East Troy WI
Edgerton WI
Elkhorn WI
Elm Grove, WI
Evansville WI
Fitchburg WI
Fort Atkinson WI
Foxpoint, WI
Franklin WI
Germantown WI
Glendale, WI
Grafton WI
Greenfield WI
Greendale WI
Hales Corners, WI
Hartford WI
Hartland WI
Horicon WI
Janesville WI
Jackson WI
Jefferson WI
Juneau WI
Kenosha WI
Kewaskum WI
Lake Geneva WI
Lake Mills WI
Lannon, WI
Lisbon, WI
Lodi WI
Madison WI
Marshall WI
Mayville WI
McFarland WI
Menomonee Falls WI
Mequon WI
Middleton WI
Milton WI
Milwaukee WI
Monroe WI
Mukwonago WI
Muskego WI
Mt. Horeb WI
New Berlin WI
Oak Creek, WI
Oconomowoc WI
Oregon WI
Ozaukee WI
Paddock Lake WI
Pardeeville WI
Pewaukee, WI
Pleasant Prairie WI
Port Washington WI
Portage WI
Poynette WI
Racine WI
River Hills, WI
Saukville WI
Shorewood, WI
Slinger WI
South Milwaukee WI
St. Francis, WI
Stoughton WI
Sturtevant WI
Sun Prairie WI
Sussex WI
Theinsville, WI
Twin Lakes WI
Union Grove WI
Verona WI
Waterford WI
Waterloo WI
Watertown WI
Waukesha WI
Wauwatosa WI
Windsor WI
Winthrop Harbor WI
West Bend WI
West Allis WI
Whitefish Bay, WI
Whitewater WI
Williams Bay WI
Antioch IL
Belvidere IL
Grayslake IL
Gurnee IL
Harvard IL
Lake Forest IL
Lake Villa IL
Loves Park IL
Machesney Park IL
McHenry IL
North Chicago IL
Poplar Grove IL
Rockford IL
Rockton IL
Roscoe IL
South Beloit IL
Wadsworth IL
Waukegan IL
Winnebago IL
Zion IL