Commercial Asphalt Repair throughout Wisconsin and Illinois
Asphalt Repair Service from the Experts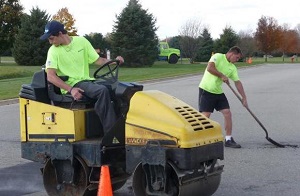 You can expect superior quality and expert workmanship when you turn to MUDTeCH™ for your commercial asphalt repair. A parking lot full of potholes is just as bad as a cracked asphalt surface. MUDTeCH™ contractors know a variety of asphalt repair methods to best match your issue and budget.
Asphalt driveways and parking lots can become damaged over time by excessive traffic and severe temperature fluctuations. Hitting a pothole can cause a delivery truck to spill its shipment or damage to a customer car. Rely on the expert workmanship of MUDTeCH™ for quality asphalt repairs at your commercial property.

Types of Asphalt Repair
There are three main types of asphalt repair practiced by MUDTeCH™: Remove and Replace, Infrared Asphalt Repair and Skin Patching. Each has advantages depending on the specific repair you need. Before you even receive an estimate, MUDTeCH™ experts will inspect your asphalt to give you a full rundown providing repair recommendations. We leave the final choice to you.
Remove and Replace Asphalt
The longest lasting asphalt repair solution is removing and replacing asphalt, an effective and extensive option for fixing commercial asphalt. MUDTeCH™ technicians remove the worn down or cracked asphalt completely. Sometimes called Cut and Fill, the next step involves adding new asphalt where the old was removed. Occasionally, a new base will first be added for greater stability. The surface is then repaved for a coherent appearance and smooth finish. Though one of our most expensive asphalt repairs, Remove and Replace more than pays for itself by lasting longer than other repair options.
Infrared Asphalt Repair
Infrared asphalt repair is achieved by using a heater to bring asphalt to the same temperature of when it was first applied. MUDTeCH™ is then able to work with the malleable asphalt to remove imperfections and make seamless repairs. This finish prevents water from penetrating the asphalt and causing further damage to the base foundation. This method allows MUDTeCH™ to preserve good asphalt while only removing the exact asphalt in need of repairs.
MUDTeCH™ is one of the only companies in Wisconsin with a heater measuring 6' x 13', one of the largest sizes available. This larger heater means jobs can be done faster, rather than doing smaller sections in a piecemeal fashion like other asphalt repair companies. MUDTeCH™ uses infrared asphalt repair as an environmentally friendly repair method as the heater operates on clean burning propane.
Skin Patching Asphalt
As the most inexpensive repair method employed by MUDTeCH™, skin patching is a quick fix for asphalt. Sometimes called skim patching, this process is considered a temporary fix only. A thin layer of asphalt is compacted over the problem area until a complete repair can be made. Essentially, this is like placing a Band-Aid over your asphalt parking lot or driveway.
Other asphalt repair companies will often try to scam their customers by offering only skin patching and claiming it is just as good as infrared or replacing the asphalt. This is not true. If left too long, the asphalt patch will begin to wear away and eventually reveal the original pothole or cracks. MUDTeCH™ can place a temporary repair until a full repair can be made to your asphalt.
Reliable Asphalt Repair
MUDTeCH™ provides affordable, reliable asphalt repairs for various types of commercial lots. Unlike many Wisconsin asphalt repair companies, MUDTeCH™ is not restricted to any particular asphalt replacement or repair method. We use whatever asphalt repair technique will make your asphalt repair last as long as possible for the lowest overall cost. When you hire MUDTeCH™ for your asphalt repair job, you get superior asphalt repair and great service at a fair price.
MUDTeCH™ is owned and operated by American Soldiers who take pride in giving the best possible value to each and every asphalt repair, from Glendale to Grafton and Watertown to Waupun.
MUDTeCH™ performs asphalt repair in Southeastern Wisconsin from Kenosha, North to Ozaukee County, West to Portage County and South to Monroe Wisconsin and Eastern Green County. We also perform asphalt repair in Northern Illinois. If you're in the Lake County, McHenry and Rockford, Illinois area and need asphalt repair, turn to MUDTeCH™.
Call MUDTeCH™ Today 262.337.0934 or 608.477.255
Free Estimates on Mudjacking - Concrete Repair - Asphalt Repair. Serving All of Southeastern Wisconsin and Northeast Illinois
MUDTeCH invites you to check out this successful commercial helical pier installation. Our helical piering contractors provided a permanent deep foundation solution for this industrial building. From asphalt repair and sealcoating to concrete installations and basement waterproofing, you can depend on MUDTeCH.
View Our Project Gallery
Bayside, WI
Bay View, WI
Beaver Dam WI
Belleville WI
Beloit WI
Brodhead WI
Brookfield WI
Brown Deer, WI
Burlington WI
Butler, WI
Caledonia, WI
Cedarburg WI
Clinton WI
Columbus WI
Cross Plains WI
Cudahy, WI
DeForest WI
Delafield WI
Delevan WI
East Troy WI
Edgerton WI
Elkhorn WI
Elm Grove, WI
Evansville WI
Fitchburg WI
Fort Atkinson WI
Foxpoint, WI
Franklin WI
Germantown WI
Glendale, WI
Grafton WI
Greenfield WI
Greendale WI
Hales Corners, WI
Hartford WI
Hartland WI
Horicon WI
Janesville WI
Jackson WI
Jefferson WI
Juneau WI
Kenosha WI
Kewaskum WI
Lake Geneva WI
Lake Mills WI
Lannon, WI
Lisbon, WI
Lodi WI
Madison WI
Marshall WI
Mayville WI
McFarland WI
Menomonee Falls WI
Mequon WI
Middleton WI
Milton WI
Milwaukee WI
Monroe WI
Mukwonago WI
Muskego WI
Mt. Horeb WI
New Berlin WI
Oak Creek, WI
Oconomowoc WI
Oregon WI
Ozaukee WI
Paddock Lake WI
Pardeeville WI
Pewaukee, WI
Pleasant Prairie WI
Port Washington WI
Portage WI
Poynette WI
Racine WI
River Hills, WI
Saukville WI
Shorewood, WI
Slinger WI
South Milwaukee WI
St. Francis, WI
Stoughton WI
Sturtevant WI
Sun Prairie WI
Sussex WI
Theinsville, WI
Twin Lakes WI
Union Grove WI
Verona WI
Waterford WI
Waterloo WI
Watertown WI
Waukesha WI
Wauwatosa WI
Windsor WI
Winthrop Harbor WI
West Bend WI
West Allis WI
Whitefish Bay, WI
Whitewater WI
Williams Bay WI
Antioch IL
Belvidere IL
Grayslake IL
Gurnee IL
Harvard IL
Lake Forest IL
Lake Villa IL
Loves Park IL
Machesney Park IL
McHenry IL
North Chicago IL
Poplar Grove IL
Rockford IL
Rockton IL
Roscoe IL
South Beloit IL
Wadsworth IL
Waukegan IL
Winnebago IL
Zion IL