Milwaukee Mudjacking Company Serving SE Wisconsin and NE Illinois
Residential Concrete Leveling for Driveways, Sidewalks, and More
MUDTeCH™ mudjacking services can fix 99% of sunken concrete. We use the strongest cement hybrid mixes in the Milwaukee mudjacking industry, far superior to pure mud in hardness, but without the weight or cost of pure concrete, to give the longest lasting results. Unlike some Milwaukee and Madison mudjacking companies, MUDTeCH™ always takes water flow into consideration when leveling your concrete. We guarantee our work for at least one year, with longer warranties available based on sub-soil conditions. For mudjacking services in southeast Wisconsin or northeast Illinois, MUDTeCH™ is always your best choice.

MUDTeCH™ mudjacking levels all types of concrete, from driveways and sidewalks to floors and staircases. No Milwaukee mudjacking company achieves better results than MUDTeCH™, and our prices are very competitive for the caliber of work we do. To learn more about how we can repair your concrete and solve your water flow problems at a fair price--and save 50%-70% compared to the cost of replacing your concrete--give us a call today.

What IS Mudjacking?
Mudjacking, also known as slab jacking or concrete leveling, is the process of raising concrete slabs hydraulically with a cement hybrid mixture. This mix is injected through the ground to raise the slab until it is level. This is an affordable alternative to removing and replacing damaged concrete slabs. MUDTeCH's™ mudjacking services will raise your problem cement up to a safe level and create a reliably even surface for years to come.
Madison Mudjacking – Solving Your Concrete Problems
Raising or repairing damaged, sunken, twisted and uneven concrete can be a hassle. Removing the slabs, preparing the exposed soil, laying a gravel base, compacting the base, pouring new concrete, finishing the surface, and waiting for it to cure is an expensive and time consuming task most homeowners simply don't have the resources to accomplish. There's a much easier, and more cost-effective way, though. Instead of completely replacing your concrete, have it raised to a uniform level and transformed into the sturdy, smooth surface it used to be with mudjacking services from MUDTeCH™.
Irregular and sunken concrete can become a real problem. Uneven concrete sidewalks, staircases and driveways make shoveling snow even more difficult and time consuming. Exposed edges or raised sections also create a tripping hazard. Don't make seasonal tasks harder or risk potential injury or a lawsuit because of uneven concrete. Raise your sidewalk, driveway, garage slab or driveway with quality services from the professional Madison mudjackers at MUDTeCH™.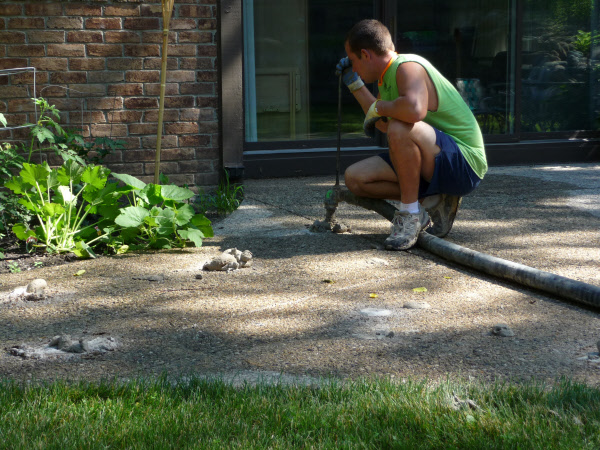 Advantages to Milwaukee Mudjacking
Homeowners with uneven or dangerously sunken concrete issues have two options: completely replace the concrete slabs or have the entire slab raised and leveled with mudjacking.
When compared to the cost of removing your concrete, disposing of the pieces, pouring new concrete and paying your a concrete contractor, mudjacking services from MUDTeCH™ are a huge money saver. We don't tear out the existing concrete or remove the slabs; we simply use our powerful cement hybrid mudjacking mix to hydraulically raise the sunken area of your sidewalk, driveway, concrete staircase, factory floor or garage slab to a safe and even level.
Our hybrid mudjacking mix is easy to pour and fills in the smallest pockets and voids, ensuring total support and a level surface. The professional Milwaukee mudjacking experts at MUDTeCH™ know exactly how to turn uneven, sunken or twisted cement into something any homeowner can be proud of. If your property has some slabs that need to be replaced, but some can be leveled out with mud jacking, MUDTeCH can usually replace your concrete and take care of any mud jacking in the same day.
Madison Mudjacking Controls Water Flow and Drainage Issues
One of the most common problems MUDTeCH™ remedies is water flow and drainage issues caused by sunken or twisted concrete driveways and walkways that funnel rainwater straight towards the foundation of a home. This increases the chances for basement flooding, water damage and even more expense and headache for Illinois and Wisconsin homeowners. Solve your drainage issues and water flow problems by having your cement slabs leveled by the Milwaukee mudjacking experts at MUDTeCH™.

MUDTeCH™ always takes water flow into consideration when leveling concrete. Concrete sidewalks and driveways located close to the house are angled away from foundations to keep rainwater and melting snow from causing any water damage, leaks or basement flooding. MUDTeCH™ always aims to achieve original drainage control with every project we do, especially on jobs with a history of water intrusion.
MUDTeCH™ serves both the greater Madison area as well as Milwaukee. From Milwaukee basement waterproofing services to Waukesha drainage and water flow solutions we repair your concrete and solve water flow problems at a fair price. If you're in Madison, call us at 608-477-2556. In the Milwaukee area, 262-337-0934.
Why MUDTeCH is your best choice for Madison Mudjacking
When it comes to quality Madison slab jacking services, nothing beats the professional team at MUDTeCH™. Our years of experience, coupled with on-the-job knowledge and an eye for detail, makes MUDTeCH™ the only choice for your home or business. MUDTeCH™ is owned and operated by American soldiers who take pride in doing quality work at a fair price. Whether it's mudjacking in Madison, a Milwaukee concrete repair, or a Brookfield asphalt repair, you can count on MUDTeCH™.

MUDTeCH™ serves all of southeastern Wisconsin from Kenosha in the south to Ozaukee County, west to Portage County and south to Monroe Wisconsin and eastern Green County. We also perform mudjacking in northeast Illinois in Lake County, McHenry and Rockford.


MUDTeCH invites you to check out this successful commercial helical pier installation. Our helical piering contractors provided a permanent deep foundation solution for this industrial building. From asphalt repair and sealcoating to concrete installations and basement waterproofing, you can depend on MUDTeCH.
View Our Project Gallery
Bayside, WI
Bay View, WI
Beaver Dam WI
Belleville WI
Beloit WI
Brodhead WI
Brookfield WI
Brown Deer, WI
Burlington WI
Butler, WI
Caledonia, WI
Cedarburg WI
Clinton WI
Columbus WI
Cross Plains WI
Cudahy, WI
DeForest WI
Delafield WI
Delevan WI
East Troy WI
Edgerton WI
Elkhorn WI
Elm Grove, WI
Evansville WI
Fitchburg WI
Fort Atkinson WI
Foxpoint, WI
Franklin WI
Germantown WI
Glendale, WI
Grafton WI
Greenfield WI
Greendale WI
Hales Corners, WI
Hartford WI
Hartland WI
Horicon WI
Janesville WI
Jackson WI
Jefferson WI
Juneau WI
Kenosha WI
Kewaskum WI
Lake Geneva WI
Lake Mills WI
Lannon, WI
Lisbon, WI
Lodi WI
Madison WI
Marshall WI
Mayville WI
McFarland WI
Menomonee Falls WI
Mequon WI
Middleton WI
Milton WI
Milwaukee WI
Monroe WI
Mukwonago WI
Muskego WI
Mt. Horeb WI
New Berlin WI
Oak Creek, WI
Oconomowoc WI
Oregon WI
Ozaukee WI
Paddock Lake WI
Pardeeville WI
Pewaukee, WI
Pleasant Prairie WI
Port Washington WI
Portage WI
Poynette WI
Racine WI
River Hills, WI
Saukville WI
Shorewood, WI
Slinger WI
South Milwaukee WI
St. Francis, WI
Stoughton WI
Sturtevant WI
Sun Prairie WI
Sussex WI
Theinsville, WI
Twin Lakes WI
Union Grove WI
Verona WI
Waterford WI
Waterloo WI
Watertown WI
Waukesha WI
Wauwatosa WI
Windsor WI
Winthrop Harbor WI
West Bend WI
West Allis WI
Whitefish Bay, WI
Whitewater WI
Williams Bay WI
Antioch IL
Belvidere IL
Grayslake IL
Gurnee IL
Harvard IL
Lake Forest IL
Lake Villa IL
Loves Park IL
Machesney Park IL
McHenry IL
North Chicago IL
Poplar Grove IL
Rockford IL
Rockton IL
Roscoe IL
South Beloit IL
Wadsworth IL
Waukegan IL
Winnebago IL
Zion IL