Commercial Basement Waterproofing for Wisconsin Businesses
Waterproofing Services for Your Brookfield Business
You need all the space you can get at your commercial property. Basements are useful for additional storage, merchandise holding, or even makeshift offices for additional employees. MUDTeCH™ basement waterproofing for Wisconsin commercial properties is one way to keep this valuable space safe and dry.
Prevent Basement Water Damage
Wisconsin and Illinois businesses face unique problems when it comes to waterproofing. High snow in winter and heavy rainstorms in summer mean there is little reprieve from the threat of basement flooding. To stop water damage before it starts, basement waterproofing is recommended at the first sign of basement dampness to stop full flooding or mold damage alter on.
If you have a commercial basement and have noticed it has grown damp, it is time to act. MUDTeCH™ basement waterproofing will prevent any future flooding your basement might otherwise have experienced. From a regular drainage solution to basement wall repairs, MUDTeCH™ has your basement covered.

The MUDTeCH™ Difference in Waterproofing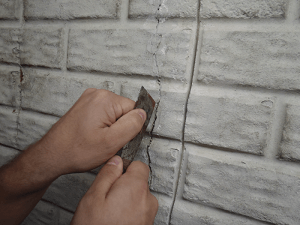 Unlike other waterproofing companies, MUDTeCH™ takes your building style and age into account when determining which method of waterproofing is most appropriate for your business. There are many reasons for basements to flood and become water damaged, and we are determined to stop it at the source. We can tell whether a new sump pump or better drainage would be the best, affordable solution for your business.
Wisconsin and Illinois Basement Drainage Types
MUDTeCH™ is familiar with all kinds of basement waterproofing techniques commonly used throughout the area. Perhaps the greatest protection against flooding is proper drainage for your commercial property. Our expert team will assess your facility to determine the best course of action before waterproofing.
Interior Basement Drains: Interior drainage systems are used to move water away from your basement's foundation. Installed underneath the basement, it is crucial a professional basement waterproofing contractor performs the installation to avoid damaging the foundation. Attempting to add your own interior drains is not recommended, as it may in fact cause your basement to flood if not installed correctly.
Reliable French Drains: French drains, like interior drains, draw water from your basement and send it away from the foundation. MUDTeCH™ uses this well-known method as an effective and powerful form of basement waterproofing. Nearly two centuries has proved the merits of this drainage system time and time again and is an affordable way to protect your commercial basement from flooding and water damage.
Sump Pump Installation and Repair
The sump pump is one of the most common ways of removing flood water from basements. MUDTeCH™ technicians are able to install sump pumps and get them up and running to protect your business from basement flooding during snow thaws or heavy spring rains.
Choosing the right sump pump for your commercial facility can be difficult. You need a unit powerful enough to keep things dry yet not too large that it becomes a hassle. Our basement waterproof experts can guide you through the process of selecting the right pump for your facility to get started on waterproofing today.
Crack Injection for Concrete Repair
Commercial crack injection services are another way MUDTeCH™ protects your business from water damage. Cracked concrete walls or foundations can allow water to enter your property's basement, leading to flooding and mold.
During winter, water can freeze inside these cracks and cause them to expand. In serious cases, these spreading cracks can weaken the structural integrity of your basement and foundation. It is vital to have your walls repaired before this happens. Epoxy and urethane foams from MUDTeCH™ are the best material for preventing cracks from spreading.
Best Basement Waterproof Contractors

If your basement has already been flooded or has significant water damage, MUDTeCH™ can help with wall restoration services and crack repair. Protect your commercial property now before it's too late. MUDTeCH™ waterproof contractors have years of experience waterproofing commercial and residential basements. From adding a new drainage system in Waukegan to installing a replacement sump pump in Mount Pleasant, MUDTeCH™ is ready to give you expert care in preventing water damage wherever you need it.
Residential Basement Waterproofing in Wisconsin
Protect your home the way you protect your business. Residential basement waterproofing from MUDTeCH™ is an affordable way to prevent water damage from flooding. Wisconsin and Illinois homes are susceptible to flooding throughout the year due to heavy rain in summer and the winter freeze-thaw cycle.
Contact the basement waterproof team at MUDTeCH™ to stop flooding in your commercial basement.
MUDTeCH invites you to check out this successful commercial helical pier installation. Our helical piering contractors provided a permanent deep foundation solution for this industrial building. From asphalt repair and sealcoating to concrete installations and basement waterproofing, you can depend on MUDTeCH.
View Our Project Gallery
Bayside, WI
Bay View, WI
Beaver Dam WI
Belleville WI
Beloit WI
Brodhead WI
Brookfield WI
Brown Deer, WI
Burlington WI
Butler, WI
Caledonia, WI
Cedarburg WI
Clinton WI
Columbus WI
Cross Plains WI
Cudahy, WI
DeForest WI
Delafield WI
Delevan WI
East Troy WI
Edgerton WI
Elkhorn WI
Elm Grove, WI
Evansville WI
Fitchburg WI
Fort Atkinson WI
Foxpoint, WI
Franklin WI
Germantown WI
Glendale, WI
Grafton WI
Greenfield WI
Greendale WI
Hales Corners, WI
Hartford WI
Hartland WI
Horicon WI
Janesville WI
Jackson WI
Jefferson WI
Juneau WI
Kenosha WI
Kewaskum WI
Lake Geneva WI
Lake Mills WI
Lannon, WI
Lisbon, WI
Lodi WI
Madison WI
Marshall WI
Mayville WI
McFarland WI
Menomonee Falls WI
Mequon WI
Middleton WI
Milton WI
Milwaukee WI
Monroe WI
Mukwonago WI
Muskego WI
Mt. Horeb WI
New Berlin WI
Oak Creek, WI
Oconomowoc WI
Oregon WI
Ozaukee WI
Paddock Lake WI
Pardeeville WI
Pewaukee, WI
Pleasant Prairie WI
Port Washington WI
Portage WI
Poynette WI
Racine WI
River Hills, WI
Saukville WI
Shorewood, WI
Slinger WI
South Milwaukee WI
St. Francis, WI
Stoughton WI
Sturtevant WI
Sun Prairie WI
Sussex WI
Theinsville, WI
Twin Lakes WI
Union Grove WI
Verona WI
Waterford WI
Waterloo WI
Watertown WI
Waukesha WI
Wauwatosa WI
Windsor WI
Winthrop Harbor WI
West Bend WI
West Allis WI
Whitefish Bay, WI
Whitewater WI
Williams Bay WI
Antioch IL
Belvidere IL
Grayslake IL
Gurnee IL
Harvard IL
Lake Forest IL
Lake Villa IL
Loves Park IL
Machesney Park IL
McHenry IL
North Chicago IL
Poplar Grove IL
Rockford IL
Rockton IL
Roscoe IL
South Beloit IL
Wadsworth IL
Waukegan IL
Winnebago IL
Zion IL