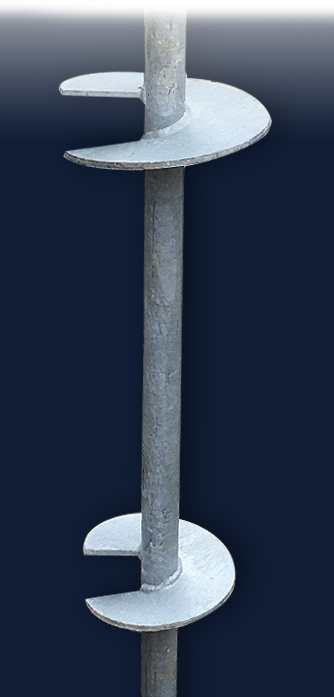 What is Piering and What Does it do?
Piering goes by many different names, including helical anchors/piers, piles, and deep foundation systems. While there are many different titles and methods behind piering, including concrete caissons and sometimes rock anchors, they all do the same thing: provide additional foundational support for your building and improve its overall structural stability.
Piering systems are installed along the exterior walls of a building's foundation to provide added support and stop these walls from buckling, shifting, or cracking. Foundation walls reinforced with piering systems keep your basement dry, your floors level, and your building intact. Helical piering can also be used as a support system for boardwalks over wetlands and marshes and is commonly installed in State parks or along scenic trails that lack a good natural base for a standard support system. MUDTeCH™ can work with DNR, State Parks, and private entities seeking a boardwalk or "dock" system over unstable or changing soil conditions.
Piering is the act of driving or drilling long steel shafts deep into the dirt until they hit bedrock or another stable, load bearing soil. These shafts act as reinforcements for new or existing foundations and also provide extremely strong anchor points for tall communication towers or other cabled structures. Our Milwaukee helical piering experts have installed high-quality Viking anchor systems for towers throughout southeast Wisconsin and will work closely with your engineering team to create the strongest possible deep foundation systems. We only install high-quality, Viking helical piers, as opposed to the more commonly used Chance Piers because Viking Piers are the strongest, most durable piers made.
Precision engineering, combined with unequalled attention to detail, ensures your helical anchors and piering systems will stand up to your demands. MUDTeCH provides the best piering and deep foundation system installation services in southeast Wisconsin. From boardwalk installations across wetlands to foundational supports for homes and communications tower installations, you can depend on MUDTeCH™ for all your piering needs.
Check out our Milwaukee piering installation gallery for examples of our high-quality work.