Milwaukee Piering and Deep Foundation System Installations
Wisconsin
Helical Piering
Minnesota
Helical Piering
Illinois
Helical Piering
Iowa
Helical Piering
Michigan
Helical Piering
Pile Driving, Helical Anchor and Rock Anchor System Installation Services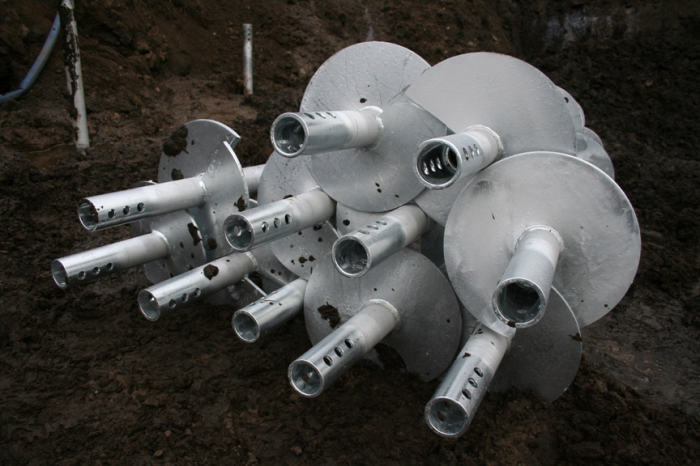 The most important aspect behind constructing a durable, stable, and long-lasting structure is the implementation of a strong foundation capable of standing up against the constantly fluctuating conditions of soil. While a strong foundation is important, even the best foundations aren't safe from shifting and settling over time. No homeowner wants to have part of their house suddenly begin sinking and no business owner wants to find their basement walls have cracked, buckled, and begun leaking. If these are problems you're currently facing then contact our Milwaukee helical piering specialists for the best deep foundation system installation services in Wisconsin and throughout the Midwest.

What is Piering and What Does it do?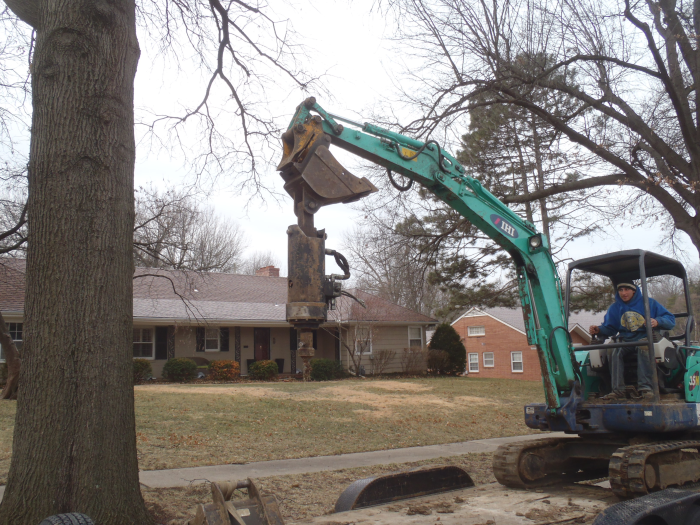 Piering goes by many different names, including helical anchors/piers, piles, and deep foundation systems. While there are many different titles and methods behind piering, including concrete caissons and sometimes rock anchors, they all do the same thing: provide additional foundational support for your building and improve the overall structural stability. Piering systems are installed along the exterior walls of a building's foundation to provide added support and stop these walls from buckling, shifting, or cracking. Foundation walls reinforced with piering systems keep your basement dry, your floors level, and your building intact. Helical piering can also be used as a support system for boardwalks over wetlands and marshes and is commonly installed in State parks or along other scenic trails which don't have a good natural base for a standard support system. MUDTeCH™ can work with DNR, State Parks, and private entities seeking a boardwalk or "dock" system over unstable or changing soil conditions.
Piering is the act of driving or drilling long steel shafts deep in to the dirt until they hit bedrock or another stable, load bearing soil. These shafts act as reinforcements for new or existing foundations and also provide extremely strong anchor points for tall communication towers or other cabled structures. Our expert Milwaukee helical piering experts have installed high quality Viking anchor systems for towers throughout Southeastern Wisconsin and will work closely with your engineering team to create the strongest possible deep foundation systems. Unlike other Wisconsin helical pier companies, we install high quality, Viking helical piers. As opposed to the commonly used Chance Piers, Viking Piers are the strongest and most durable in the world.
Precise and careful engineering, combined with unequalled attention to detail, ensures your helical anchors and piering systems will stand up to your demands. MUDTeCH provides the best piering and deep foundation system installation services in Southeastern Wisconsin. From installing foundational supports for homes and erecting communications towers to boardwalk installations across wetlands, depend on MUDTeCH™ for all your piering needs.
Be sure to check out our Milwaukee piering installation gallery for examples of our high quality work.
Contact the Milwaukee piering contractors at MUDTeCH™ today for more information about our deep foundation system installation services.
MUDTeCH invites you to check out this successful commercial helical pier installation. Our helical piering contractors provided a permanent deep foundation solution for this industrial building. From asphalt repair and sealcoating to concrete installations and basement waterproofing, you can depend on MUDTeCH.
View Our Project Gallery
Bayside, WI
Bay View, WI
Beaver Dam WI
Belleville WI
Beloit WI
Brodhead WI
Brookfield WI
Brown Deer, WI
Burlington WI
Butler, WI
Caledonia, WI
Cedarburg WI
Clinton WI
Columbus WI
Cross Plains WI
Cudahy, WI
DeForest WI
Delafield WI
Delevan WI
East Troy WI
Edgerton WI
Elkhorn WI
Elm Grove, WI
Evansville WI
Fitchburg WI
Fort Atkinson WI
Foxpoint, WI
Franklin WI
Germantown WI
Glendale, WI
Grafton WI
Greenfield WI
Greendale WI
Hales Corners, WI
Hartford WI
Hartland WI
Horicon WI
Janesville WI
Jackson WI
Jefferson WI
Juneau WI
Kenosha WI
Kewaskum WI
Lake Geneva WI
Lake Mills WI
Lannon, WI
Lisbon, WI
Lodi WI
Madison WI
Marshall WI
Mayville WI
McFarland WI
Menomonee Falls WI
Mequon WI
Middleton WI
Milton WI
Milwaukee WI
Monroe WI
Mukwonago WI
Muskego WI
Mt. Horeb WI
New Berlin WI
Oak Creek, WI
Oconomowoc WI
Oregon WI
Ozaukee WI
Paddock Lake WI
Pardeeville WI
Pewaukee, WI
Pleasant Prairie WI
Port Washington WI
Portage WI
Poynette WI
Racine WI
River Hills, WI
Saukville WI
Shorewood, WI
Slinger WI
South Milwaukee WI
St. Francis, WI
Stoughton WI
Sturtevant WI
Sun Prairie WI
Sussex WI
Theinsville, WI
Twin Lakes WI
Union Grove WI
Verona WI
Waterford WI
Waterloo WI
Watertown WI
Waukesha WI
Wauwatosa WI
Windsor WI
Winthrop Harbor WI
West Bend WI
West Allis WI
Whitefish Bay, WI
Whitewater WI
Williams Bay WI
Antioch IL
Belvidere IL
Grayslake IL
Gurnee IL
Harvard IL
Lake Forest IL
Lake Villa IL
Loves Park IL
Machesney Park IL
McHenry IL
North Chicago IL
Poplar Grove IL
Rockford IL
Rockton IL
Roscoe IL
South Beloit IL
Wadsworth IL
Waukegan IL
Winnebago IL
Zion IL