Concrete Care and Maintenance Tips from Milwaukee's Concrete Experts
Posted on:
January 19, 2016

While concrete is an extremely durable material and used for a variety of applications, concrete care is essential to ensure long lasting durability. If not cared for properly, concrete will scale, discolor and even deteriorate. Below you will find concrete care tips from Milwaukee's top concrete installation and repair company. Learn how to care for your concrete year round and increase the lifespan of your concrete.
Post Installation Concrete Care
Do not apply deicing chemicals like salt at any time during the first winter of your concrete's life. If you need traction, sand is a safe alternative.
Do not drive on your new concrete for 7 days immediately after the installation.
For the first winter, try to avoid parking on your concrete at all. Parking in your garage will limit the amount of chemicals exposed to the new concrete.
Winter Concrete Care
Most of concrete damage occurs during the cold, winter months. Freezing temperatures not only affect concrete without the presence of moisture, adding moisture to the mix creates havoc on concrete.
It's important to remove any water or snow immediately from your concrete. The less number of times water enters concrete and freezes, the less likely it will become damaged.
Refrain from using deicers with ammonium sulfate or ammonium nitrate. These particular chemicals are known to deteriorate concrete.
Complete Concrete Care
Add a sealer to your concrete. Sealers ensure maximum protection by protecting the surface from stains and minimizing the amount of water entering the surface pores. Sealers should be applied after initial installation then reapplied annually.
Mats and flower pots should be continuously rotated to avoid discoloration.
Avoid fertilizer pellets and tree leaves from getting on your concrete. This type of debris will stain your concrete if not removed in time.
When using stain removals, be sure not to use harsh acids. Use a product which is safe for concrete and specific to the stain.
When your Concrete Needs Repair Don't Despair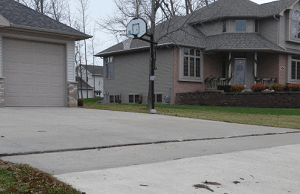 If you start to notice your concrete is cracking or you have uneven concrete slabs, it's important to repair your concrete before it worsens. Not only is concrete damage unsightly, it's unsafe. While there are a number of reasons concrete needs repairing, sunken concrete is a common problem and while there is a variety of concrete repair methods, mudjacking is the most affordable and efficient method used. Instead of completely replacing your concrete, MUDTeCH™ will raise it to a uniform level and transformed in to the sturdy, smooth surface it once was and for years to come.
Before you need to replace your entire concrete, contact MUDTeCH™ today for an affordable concrete repair solution.