Wisconsin Concrete and Asphalt Repairs - A Sign of Spring
Posted on:
February 02, 2010
2010 is expected to be very similar to 2009 in the pavement repair world around Wisconsin and Illinois. If you are a homeowner or property manager, seeking professionals to correct or fix the things Mother Nature did to your concrete driveways, concrete walkways, or asphalt surfaces, MUDTeCH is here to help.

Here in the Midwest, we have well over 100 degree temperature variance. So when you go from +105 in August to -20 in January, your pavement endures significant stress from constant expanding and contracting. Generally a crack is formed as a result, and depending where it is, and how many cracks you have, potholes and trip hazards are the usual result.
What happens is when cracks form, it allows water to go beneath the surface. For example- If your concrete or asphalt crack over a winter freeze, and maybe you ignore it for 3 years. Then for 3 years you have allowed water to work away the strength of the sub base, usually several inches of compacted gravel. The water creates a "soft spot" in your base, and its only a matter of time before the hard surface of asphalt or concrete gives way to something like an automobile.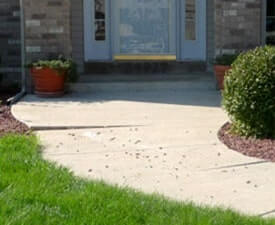 Sometimes gravity itself is the culprit, And sometimes people build homes and buildings so fast, that the surrounding areas do not have time to "settle" before concrete and asphalt are placed on top. As the un-compacted material begins to settle, the hard surface above follows. For example - when a hole is dug for a basement, often the removed dirt is not compacted as it goes back along the new wall. Then the driveway, patio, sidewalks are poured to match the height of the doors and garage floor. What happens then as the ground begins to settle back into place, the hard surfaces drop from their original grade. MUDTeCH has repaired asphalt and concrete that have dropped anywhere between a fraction of an inch, on up to around 15+".
One word of caution for the coming season - Beware of the truck that comes rolling in your neighborhood with no marking or company name on the door, with the clever sales pitch about "having extra, but enough to do yours though" Or "I just signed up your neighbor, I can get you a great deal too if you pay right now"
The pavement repair industry is plagued by "gypsies" that travel from town to town, living out of their trucks, and scamming the cash out of hard working people for less than sub-standard work. NO CONTRACTOR worth their salt, would ever over estimate a job so much that they have enough material to make another full driveway, or patio, or whatever.
What these scammer gypsies do is park their equipment near a target area, then they have teams of convincing salesmen go out and get signed contracts from unsuspecting people that think they are getting a good deal. After a deal is reached between the salesmen and the customer, they simply call the waiting trucks, who then load the material needed and rush through the job. What you get is terrible work, and sometimes they just leave without finishing, saying they will wrap it up tomorrow.
Again some tips to avoid the traveling gypsy scammers:
if the vehicle does not have a company name
if the vehicle has a company name, but no State or city
if the only accepted way to pay is cash up front, or half down
if they have huge amounts of "left overs"
if they say all your neighbors are getting it done
Bottom line: do your own research, hire a real company, and don't get trapped by a scam.