Milwaukee Foundation Repair and Concrete Injection
Posted on:
August 27, 2013
Wisconsin Concrete Injection Services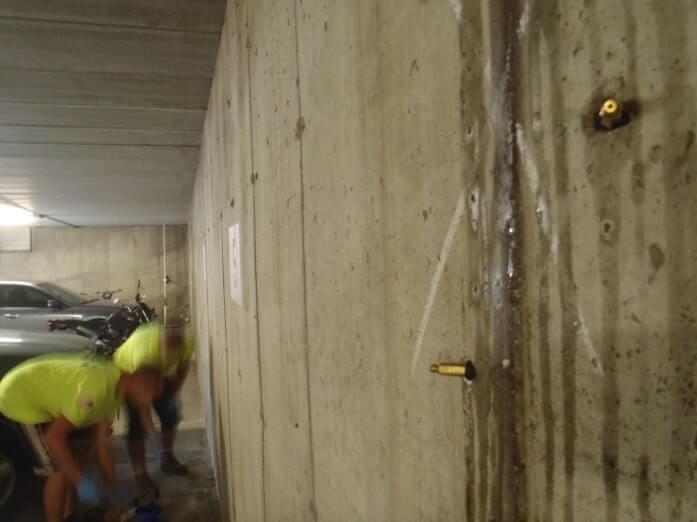 Wisconsin is known for flooding basements and leaky structures. Cold weather causes Milwaukee concrete to contract and crack. When snow melts and heavy spring rainwater falls, Wisconsin homes are flooded. MUDTeCH offers the latest in concrete crack injection to prevent leaking disasters. Hydrophobic polyurethane materials are injected into cracks before they enlarge and cause major problems. These materials do not break their seal when a Milwaukee home shifts, keeping the seal tight and water out. MUDTeCH guarantees Wisconsin's best services in concrete crack injection. Avoid expensive repair and replacement costs by using MUDTeCH's foundation repair services.
Wisconsin Concrete Crack Injection and Foundation Repair Specialists
MUDTeCH provides the best Madison crack injection services and foundation repair. Concrete injection experts are trained to find the best solution for repairing concrete structures and homes. Excellent Wisconsin concrete repair services are offered for many industries.
Concrete injection services for subway tunnels, hydroelectric dams, railroads, bridge abutments, and sewage systems are performed by experts at MUDTeCH. Sewage systems containing cracks may allow outside water to infiltrate and backup the sewage system, causing Madison homes to become unsanitary. Commuters from Milwaukee and Madison are able to safely drive across bridges and travel through the subway because MUDTeCH prevents flooding and damage to important concrete structures.
High quality Wisconsin concrete injections last as long as the structure. MUDTeCH offers only the best in foundation repair, giving you security in knowing you have a leak proof basement. Wisconsin basement crack repair is easy and saves money with our foundation repair experts.
The Best Choice in Crack Injection Materials
Concrete injections may be done with a few different kinds of materials. When making a concrete Milwaukee basement flood proof, it is important to use the right materials.
MUDTeCH uses hydrophobic polyurethane materials for the best seal on Milwaukee homes and businesses. Epoxy and urethane injection foams are the best choices on the market for concrete repair. These materials are specifically designed to keep water out and have a seal lasting a lifetime. Wisconsin homes using epoxy and urethane foams for crack repair are more reliable when it comes to preventing flooding. Concrete Wisconsin homes often expand, contract, and shift throughout the year. Polyurethane materials do not become completely solid after filling a hole and are able to move along with the home as it shifts, ensuring a constantly tight seal.
Non-polyurethane injection foam is a major problem for Milwaukee homes during temperature changes and home shifting. The non-polyurethane forms a completely solid seal, which means it has no room to give when Wisconsin homes move. The seal breaks during even the smallest home movement, causing another potential flooding problem.
MUDTeCH's concrete injection specialists fill cracks with polyurethane materials to keep leaks from happening for years. This reliable injection material will not break and will keep your Wisconsin home from flooding during any season.
Save Money with MUDTeCH Concrete Injection Services
MUDTeCH provides excellent Wisconsin concrete injection services to the Milwaukee area. Using only the best crack repair materials, Wisconsin homes are able to save money and remain flood free. Wisconsin weather causes a lot of damage to concrete structures, creating a need for foam injection repair. Our concrete injection materials are able to move with Milwaukee buildings, maintaining a tight seal for years.
Waukesha flood repair and structural replacement is very time consuming and costly. MUDTeCH's concrete crack injections prevent damage to Wisconsin homes from leaks and flooding. Even the smallest unattended cracks in concrete basements expand and become worse over time if they are not taken care of immediately. Polyurethane injection materials from our concrete injection specialists take care of cracks before a major problem occurs.
Our reliable concrete injection services last the lifetime of the structure, saving you from needing to repair or replace important concrete foundations and structures. If your concrete Waukesha basement has even the slightest crack, give the experts at MUDTeCH a call to fill the hole before it worsens.