Wisconsin Crack Injection Prevents Leaks in Basements
Go Back
Madison Basement Crack Sealing and Waterproofing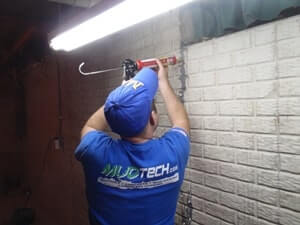 Wisconsin homeowners often dread the thought of walking down in to their basement and finding an inch of standing water or seeing water steadily dripping through a deep, jagged crack in the wall. Water is one of the most damaging and destructive elements in nature and is capable of causing untold damage to your possessions, your home, and your wallet.
Without the proper crack injection process and team, cracks in your basement walls have the potential to spread and deepen over time, increasing the likelihood of serious leaks and potential structural damage in your home. These basement wall leaks increase exponentially during the spring months due to rapid snow melt and rainfall, turning your dry basement in to an unintentional pond. Solve or prevent these issues by having the Milwaukee basement wall crack repair specialists at MUDTeCH professionally and permanently seal the cracks in your basement walls and floors. Prevention can help you with your residential or commercial waterproofing basement costs.

Wisconsin Leak Repair and Prevention
Milwaukee Concrete Wall Crack Injection Services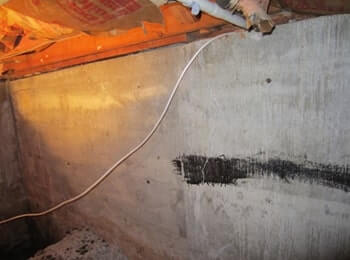 The best materials for filling a crack are substances capable of expanding, contracting, and shifting with the natural settling of your home and temperature changes between the seasons. Epoxy and urethane foams are the optimal choice for filling cracks in your basement walls and floors because they retain a certain level of flexibility and movement. In comparison, many non-urethane crack filling materials become completely solid after they are injected. While these materials certainly maintain a strong, watertight seal, they can be completely destroyed if your house shifts even the slightest amount, resulting in new leaks and another exhaustive, headache inducing process.
MUDTeCH, the best Madison concrete repair contractors and crack injection specialists, utilize hydrophobic polyurethane materials and low pressure injection methods to completely fill in cracks and keep your basement walls sealed and leak-free. The polyurethane foam forms to the void within the crack, completely displacing any existing water. The injected material will also move to the outside of your home, filling in any existing voids between your exterior basement walls and the soil. Many customers pair our crack sealing services with our Milwaukee basement waterproofing services to create a dry and comfortable basement.
Lower Your Basement Waterproofing Costs
Cracked and Bowed Basement Wall Repairs Madison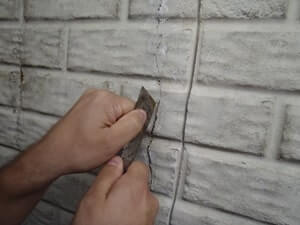 Concrete block walls, which are susceptible to cracking or leaking when the home settles, have a tendency to bow inward or outward due to water pressure or large voids left by water pooling against the exterior walls. The Milwaukee basement waterproofing and crack injections specialists at MUDTeCH will push your bowed walls back in to place and strengthen the seals around the blocks in your wall, ensuring a dry basement and a leak-free wall. We will also fill in the voids behind your blocks, preventing future leaks and helping to maintain a strong wall.
MUDTeCH's concrete home crack injection and waterproofing services keep Waukesha homes from needing to be torn down or taken apart. Water damage is very expensive and does major damage which cannot be easily reversed. Crack repair and waterproofing of concrete homes in Waukesha is very cost effective with MUDTeCH. Our Wisconsin home concrete injection repair allows customers to save money and continue living in a durable, reliable home.
View some of our basement crack injection past jobs.
Contact the Milwaukee basement wall repair contractors at MUDTeCH today for more information on Wisconsin crack injection and our basement waterproofing and concrete wall repair services.
MUDTeCH invites you to check out this successful commercial helical pier installation. Our helical piering contractors provided a permanent deep foundation solution for this industrial building. From asphalt repair and sealcoating to concrete installations and basement waterproofing, you can depend on MUDTeCH.
View Our Project Gallery
Bayside, WI
Bay View, WI
Beaver Dam WI
Belleville WI
Beloit WI
Brodhead WI
Brookfield WI
Brown Deer, WI
Burlington WI
Butler, WI
Caledonia, WI
Cedarburg WI
Clinton WI
Columbus WI
Cross Plains WI
Cudahy, WI
DeForest WI
Delafield WI
Delevan WI
East Troy WI
Edgerton WI
Elkhorn WI
Elm Grove, WI
Evansville WI
Fitchburg WI
Fort Atkinson WI
Foxpoint, WI
Franklin WI
Germantown WI
Glendale, WI
Grafton WI
Greenfield WI
Greendale WI
Hales Corners, WI
Hartford WI
Hartland WI
Horicon WI
Janesville WI
Jackson WI
Jefferson WI
Juneau WI
Kenosha WI
Kewaskum WI
Lake Geneva WI
Lake Mills WI
Lannon, WI
Lisbon, WI
Lodi WI
Madison WI
Marshall WI
Mayville WI
McFarland WI
Menomonee Falls WI
Mequon WI
Middleton WI
Milton WI
Milwaukee WI
Monroe WI
Mukwonago WI
Muskego WI
Mt. Horeb WI
New Berlin WI
Oak Creek, WI
Oconomowoc WI
Oregon WI
Ozaukee WI
Paddock Lake WI
Pardeeville WI
Pewaukee, WI
Pleasant Prairie WI
Port Washington WI
Portage WI
Poynette WI
Racine WI
River Hills, WI
Saukville WI
Shorewood, WI
Slinger WI
South Milwaukee WI
St. Francis, WI
Stoughton WI
Sturtevant WI
Sun Prairie WI
Sussex WI
Theinsville, WI
Twin Lakes WI
Union Grove WI
Verona WI
Waterford WI
Waterloo WI
Watertown WI
Waukesha WI
Wauwatosa WI
Windsor WI
Winthrop Harbor WI
West Bend WI
West Allis WI
Whitefish Bay, WI
Whitewater WI
Williams Bay WI
Antioch IL
Belvidere IL
Grayslake IL
Gurnee IL
Harvard IL
Lake Forest IL
Lake Villa IL
Loves Park IL
Machesney Park IL
McHenry IL
North Chicago IL
Poplar Grove IL
Rockford IL
Rockton IL
Roscoe IL
South Beloit IL
Wadsworth IL
Waukegan IL
Winnebago IL
Zion IL