Affordable Basement Waterproofing by the Crack Repair Experts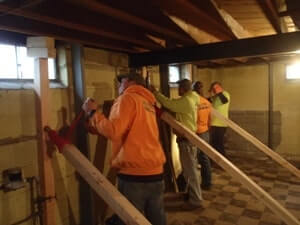 If your Milwaukee basement was never waterproofed and you're now experiencing wet basement walls, floor cracks, or other problems, enlist the help of a Milwaukee basement waterproofing expert like MUDTeCH™. Our professional basement waterproofing contractors are skilled in diagnosing existing issues, spotting potential problems, and fixing them all before it's too late.
Wisconsin weather means basements can flood any time of year. Rain in spring and summer can saturate the ground and seep into cracks in basement walls. Melting snow and ice can do the same during the winter months. Your home needs comprehensive waterproofing to prevent water damage.
Wet Basement Wall Repair in Milwaukee
Moist or wet basement walls are a sign of an improperly waterproofed foundation. Wet walls can also lead to bigger issues in your basement, from cracks in the concrete walls to flooding and mold. Some homes may experience bowed or leaning basement walls caused by outer pressure on the home's foundation. Stabilization is necessary to prevent more cracks and further damage to the basement walls.
It's not too late to regain your basement space back. Our Milwaukee concrete contractors know the common causes of bowed or wet basement walls and how to repair them. Don't let the problem fester until you're dealing with a collapsed foundation wall.. Contact MUDTeCH™ today for more information about our Milwaukee basement wall services.
Basement Wall and Floor Crack Repair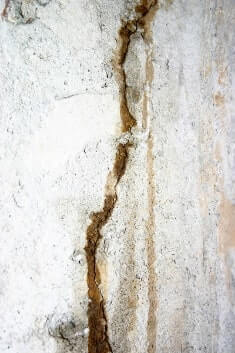 Concrete cracks often occur on basement walls and basement floors. Water can get into the basement through these cracks, leading to moisture, mold, or flooding. While many homeowners are tempted to try repairing basement walls and floors themselves, these problems should be left to the Milwaukee concrete experts of MUDTeCH™.
With years of experience, the experts at MUDTeCH™ can determine the most effective method of basement wall or floor crack repair to use. Call the Milwaukee concrete contractors of MUDTeCH™ for more information about basement wall and floor crack repair and to request an on-site quote.
Milwaukee Egress Window Installations
Egress windows are now required for finished basements with a bedroom. Egress windows allow a means to escape the basement in the event of a fire (or to let firefighters in). There are numerous code requirements, and they vary from city to city – so be sure to check with your local ordinance on what is required for your home.
Basement egress windows have four main requirements as set by the International Residential Code (IRC):
Minimum width of opening – 20 inches
Minimum height of opening – 24 inches
Minimum net clear opening – 5.7 square feet (5.0 square feet for ground floor)
Maximum sill height above floor – 44 inches
The Milwaukee basement contractors of MUDTeCH™ will know the codes and requirement for your area. If you have questions, or want to get a quote on egress windows for your home, call MUDTeCH™ at 262-337-0934.
Signs Your Basement Needs Repairs
It can be difficult to tell if water has entered your basement. While standing water after a flood is very obvious, there are many subtle signs water has found a way into your home.
Here re several ways to tell if your basement has water infiltration:
Musty odor
Stains on walls, floor, or ceiling
Peeling paint
Mold and mildew
Cracks or spalling in concrete
Mineral deposits (efflorescence)
Rust
Bowed out walls
Puddles of standing water
Any of these signs means water has already found a way into your home. Older homes are more susceptible to water damage since they were not built with a modern understanding of waterproofing. With our professional waterproofing service, you'll be able to enjoy your basement once more without worrying about water damage.
Additional Commercial Services From MudTech
MUDTeCH™ does more than install helical piers. We provide a variety of commercial services across the Midwest, including: