Basement Wall Repair for Milwaukee Homes
Go Back
Affordable Basement Waterproofing by the Crack Repair Experts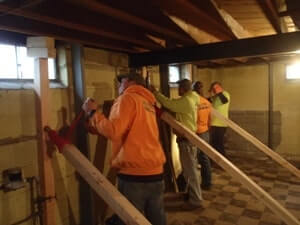 If your Milwaukee basement was never waterproofed and you're now experiencing wet basement walls, floor cracks, or other problems, enlist the help of a Milwaukee basement waterproofing expert like MUDTeCH™.Our professional basement waterproofing contractors are skilled in finding current issues, potential problems, and fixing them before it's too late.
Wisconsin weather means basements can be flooded any time of year. Rain in spring and summer can saturate the ground and seep into cracks in basement walls. Melting snow and ice can do the same during the winter months. Your home needs comprehensive waterproofing to prevent water damage.

Wet Basement Wall Repair in Milwaukee
Moist or wet basement walls are a sign of an improperly waterproofed foundation. Wet walls can also lead to bigger issues in your basement, from concrete cracks in the walls to flooding and mold. Some homes may experience bowed or leaning basement walls caused by outer pressure on the home's foundation. Stabilization is necessary to prevent any cracks or further damage to the basement walls.
It's not too late to regain your basement space back. Our Milwaukee concrete contractors know the common causes of bowed or wet basement walls, and how to repair basement walls to their original condition. It's not too late to regain your basement space. Contact MUDTeCH™ today for more information about our Milwaukee basement wall services!
Basement Wall and Floor Crack Repair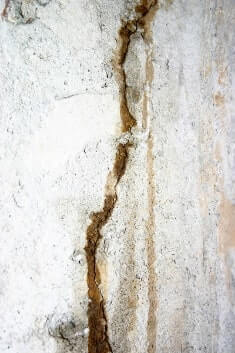 Concrete cracks frequently occur in basements, whether on basement walls or basement floors. Water can get into the basement through these crack, leading to moisture, mold, or flooding. While many homeowners are tempted to repair basement walls and floors themselves, these problems should be left to the Milwaukee concrete experts of MUDTeCH™.
The experts at MUDTeCH™ can determine the best method of basement wall or floor crack repair throughout Wisconsin. Call the Milwaukee concrete contractors of MUDTeCH™ for more information about basement wall crack repair and basement floor crack repair.
Milwaukee Egress Window Installations
Egress windows are a fairly new requirement for finished basements. Egress windows allow for a means to escape the basement in the event of a fire (or to let firefighters in). There are numerous code requirements, and some change from city to city – so be sure to check with your local ordinance on what is required for your home.
Basement egress windows have four main requirements as set by the International Residential Code (IRC):
Minimum width of opening – 20 inches
Minimum height of opening – 24 inches
Minimum net clear opening – 5.7 square feet (5.0 square feet for ground floor)
Maximum sill height above floor – 44 inches
The Milwaukee basement contractors of MUDTeCH™ know the codes and installation process for your new egress window. For any questions regarding new basement egress windows for your home or for a quote, call 262-337-0934.
Signs Your Basement Needs Repairs
It can be difficult to tell if water has entered your basement. While standing water after a flood is very obvious, there are many subtle signs water has found a way into your home.
There are several ways to tell if your basement needs our repair services:
Musty odor
Stains on walls, floor, or ceiling
Peeling paint
Mold and mildew
Cracks or spalling in concrete
Mineral deposits (efflorescence)
Rust
Bowed out walls
Puddles of standing water
Any of these signs means water has already found a way into your home. Older homes are more susceptible to water damage since they were not built with a modern understanding of waterproofing. With our professional waterproofing service, you'll be able to enjoy your basement once more without worrying about water damage.
Contact the Milwaukee basement waterproofing contractors at MUDTeCH today for more information on our basement crack repair and finishing services.
MUDTeCH invites you to check out this successful commercial helical pier installation. Our helical piering contractors provided a permanent deep foundation solution for this industrial building. From asphalt repair and sealcoating to concrete installations and basement waterproofing, you can depend on MUDTeCH.
View Our Project Gallery
Bayside, WI
Bay View, WI
Beaver Dam WI
Belleville WI
Beloit WI
Brodhead WI
Brookfield WI
Brown Deer, WI
Burlington WI
Butler, WI
Caledonia, WI
Cedarburg WI
Clinton WI
Columbus WI
Cross Plains WI
Cudahy, WI
DeForest WI
Delafield WI
Delevan WI
East Troy WI
Edgerton WI
Elkhorn WI
Elm Grove, WI
Evansville WI
Fitchburg WI
Fort Atkinson WI
Foxpoint, WI
Franklin WI
Germantown WI
Glendale, WI
Grafton WI
Greenfield WI
Greendale WI
Hales Corners, WI
Hartford WI
Hartland WI
Horicon WI
Janesville WI
Jackson WI
Jefferson WI
Juneau WI
Kenosha WI
Kewaskum WI
Lake Geneva WI
Lake Mills WI
Lannon, WI
Lisbon, WI
Lodi WI
Madison WI
Marshall WI
Mayville WI
McFarland WI
Menomonee Falls WI
Mequon WI
Middleton WI
Milton WI
Milwaukee WI
Monroe WI
Mukwonago WI
Muskego WI
Mt. Horeb WI
New Berlin WI
Oak Creek, WI
Oconomowoc WI
Oregon WI
Ozaukee WI
Paddock Lake WI
Pardeeville WI
Pewaukee, WI
Pleasant Prairie WI
Port Washington WI
Portage WI
Poynette WI
Racine WI
River Hills, WI
Saukville WI
Shorewood, WI
Slinger WI
South Milwaukee WI
St. Francis, WI
Stoughton WI
Sturtevant WI
Sun Prairie WI
Sussex WI
Theinsville, WI
Twin Lakes WI
Union Grove WI
Verona WI
Waterford WI
Waterloo WI
Watertown WI
Waukesha WI
Wauwatosa WI
Windsor WI
Winthrop Harbor WI
West Bend WI
West Allis WI
Whitefish Bay, WI
Whitewater WI
Williams Bay WI
Antioch IL
Belvidere IL
Grayslake IL
Gurnee IL
Harvard IL
Lake Forest IL
Lake Villa IL
Loves Park IL
Machesney Park IL
McHenry IL
North Chicago IL
Poplar Grove IL
Rockford IL
Rockton IL
Roscoe IL
South Beloit IL
Wadsworth IL
Waukegan IL
Winnebago IL
Zion IL