Helical Piering in Iowa
Expert Helical Pier Installers in Iowa Provide Deep Foundation Systems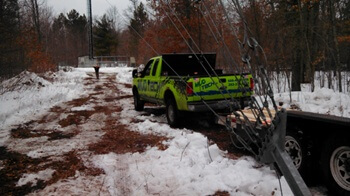 With 85 state parks and well over 20 wildlife areas, Iowa is an ideal state for helical pier installation services. Used in the construction of boardwalks over wetlands and bridges over waterways, Iowa helical piers give stability to structures built on soft soil. MUDTeCH™ can help build foundations or help reinforce foundations to prevent docks from sinking. Even though Iowa has a lot of wildlife, they also have a growing population and a number of homes which need foundation support from Des Moines to Cedar Rapids.

MUDTeCH™ can both stabilize foundations in large structures like bridges and offer the best residential foundation repair in the upper Midwest. Our MUDTeCH™ workers offer the best knowledge and experience in helical pier and anchor installation, guaranteeing your foundation repair will be done right the first time. Foundational damage is caused when the soil under your existing foundation is unstable, allowing your foundation to shift or sink. If your foundation does shift, it can lead to unimaginable house damage including walls which are pulling away from your home, sloping or cracking floors, and doors and windows which will no longer close properly. This damage can lead to very costly repairs in the future. To prevent damage to your home, call MUDTeCH™ to reinforce your foundation with our MacLean Dixie, IDEAL and Viking helical piers. Our helical pier experts offer foundation repair in Davenport, Sioux City, Iowa City, Waterloo, Council Bluffs, Ames, West Des Moines, Dubuque and other cities across Iowa.
MUDTeCH invites you to check out this successful commercial helical pier installation. Our helical piering contractors provided a permanent deep foundation solution for this industrial building. From asphalt repair and sealcoating to concrete installations and basement waterproofing, you can depend on MUDTeCH.
View Our Project Gallery
Bayside, WI
Bay View, WI
Beaver Dam WI
Belleville WI
Beloit WI
Brodhead WI
Brookfield WI
Brown Deer, WI
Burlington WI
Butler, WI
Caledonia, WI
Cedarburg WI
Clinton WI
Columbus WI
Cross Plains WI
Cudahy, WI
DeForest WI
Delafield WI
Delevan WI
East Troy WI
Edgerton WI
Elkhorn WI
Elm Grove, WI
Evansville WI
Fitchburg WI
Fort Atkinson WI
Foxpoint, WI
Franklin WI
Germantown WI
Glendale, WI
Grafton WI
Greenfield WI
Greendale WI
Hales Corners, WI
Hartford WI
Hartland WI
Horicon WI
Janesville WI
Jackson WI
Jefferson WI
Juneau WI
Kenosha WI
Kewaskum WI
Lake Geneva WI
Lake Mills WI
Lannon, WI
Lisbon, WI
Lodi WI
Madison WI
Marshall WI
Mayville WI
McFarland WI
Menomonee Falls WI
Mequon WI
Middleton WI
Milton WI
Milwaukee WI
Monroe WI
Mukwonago WI
Muskego WI
Mt. Horeb WI
New Berlin WI
Oak Creek, WI
Oconomowoc WI
Oregon WI
Ozaukee WI
Paddock Lake WI
Pardeeville WI
Pewaukee, WI
Pleasant Prairie WI
Port Washington WI
Portage WI
Poynette WI
Racine WI
River Hills, WI
Saukville WI
Shorewood, WI
Slinger WI
South Milwaukee WI
St. Francis, WI
Stoughton WI
Sturtevant WI
Sun Prairie WI
Sussex WI
Theinsville, WI
Twin Lakes WI
Union Grove WI
Verona WI
Waterford WI
Waterloo WI
Watertown WI
Waukesha WI
Wauwatosa WI
Windsor WI
Winthrop Harbor WI
West Bend WI
West Allis WI
Whitefish Bay, WI
Whitewater WI
Williams Bay WI
Antioch IL
Belvidere IL
Grayslake IL
Gurnee IL
Harvard IL
Lake Forest IL
Lake Villa IL
Loves Park IL
Machesney Park IL
McHenry IL
North Chicago IL
Poplar Grove IL
Rockford IL
Rockton IL
Roscoe IL
South Beloit IL
Wadsworth IL
Waukegan IL
Winnebago IL
Zion IL