Michigan Helical Pier Installations
Michigan Helical Piers Help Restore Foundation Integrity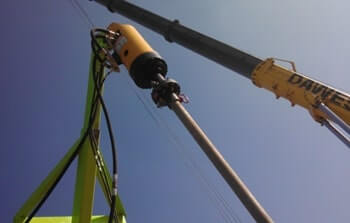 Helical piering is often used in areas with a lot of water. Exposure to water can wear away at concrete supports, putting buildings at risk. With over 36,000 miles of rivers and streams, 11,000 islands and lakes, and borders touching four of the five Great Lakes, Michigan construction often requires helical pier installation. These deep foundation systems keep buildings secure, even if exposed to water. MUDTeCH provides helical pile installation across the Midwest, including Michigan.
Michigan helical anchors help support foundations which are sinking, shifting or have been weakened over time by harsh conditions. Like most of the Midwest, Michigan soil tends to shift and can leave traditional foundations unstable. From Detroit to Grand Rapids, helical anchors provide lateral and tie down support for earthen retention walls, erosion walls, seawalls and marine bulkheads. Helical piers also offer the most durable underwater foundation support for structures built on or near water.


Helical Piering Supports Grand Rapids Buildings Near Water

With so much water around, it's no surprise how often our deep foundation systems are needed in Michigan. Helical anchors can be used in the construction of piers which were not built before a lake or pond was filled in, or in the case of a new owner who would like to add a dock off their new property to a water source. Our contractors have seen many concrete foundations worn away by water, even if it does not appear to be flowing. Still water is always moving, leading to erosion even in small bodies of water. A deck or dock can collapse if the support gives way, so it is better to contact MUDTeCH right away if you notice issues with your current support system.
We will replace your concrete foundation with steel piles which will not erode from water exposure. Our deep foundation systems can also be used when bridges or existing piers need additional foundational support. Since water can be unpredictable, soil conditions around support structures can quickly change. A once dry concrete pile can quickly get soaked and start to sink. We drill down into bedrock or other loadbearing soil, giving your construction the additional support it needs to remain strong and level.
Commercial Foundation Support for Detroit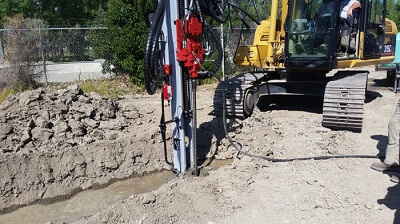 Since Michigan has shifting soil, a deep foundation system is necessary to protect buildings during and after construction. We use steel helical piles instead of concrete to provide long-lasting support. Unlike concrete, steel is better able to withstand subtle shifts in foundation soil over time and does not erode from water. Our drills can install piles deeper than concrete, making MUDTeCH the best for reliable deep foundation systems.
Our steel helical piles can be installed in less time than concrete. We drill each pier directly into the ground. There's no need to drill a hole first, fill it with concrete, and then wait for it to set. We can even drill in colder temperatures to keep your construction project on time.
Deep Foundation System for Michigan Homes
A great benefit of helical piers installation is how it is not an invasive procedure. New piles can be installed without digging up or destroying half of your yard. You can get a safe foundation right away when you call MUDTeCH.
If you have a home near or on water, you should consider helical pier installation to guarantee they will stay intact with the use of our long lasting piers. MUDTeCH has the knowledge and experience needed to correctly install helical anchors underwater for the strongest deep foundation system. We offer foundation repair across Michigan in Warren, Sterling Heights, Lansing, Ann Arbor, Flint, Dearborn, Livonia, Clinton and other cities throughout the state.
MUDTeCH invites you to check out this successful commercial helical pier installation. Our helical piering contractors provided a permanent deep foundation solution for this industrial building. From asphalt repair and sealcoating to concrete installations and basement waterproofing, you can depend on MUDTeCH.
View Our Project Gallery
Bayside, WI
Bay View, WI
Beaver Dam WI
Belleville WI
Beloit WI
Brodhead WI
Brookfield WI
Brown Deer, WI
Burlington WI
Butler, WI
Caledonia, WI
Cedarburg WI
Clinton WI
Columbus WI
Cross Plains WI
Cudahy, WI
DeForest WI
Delafield WI
Delevan WI
East Troy WI
Edgerton WI
Elkhorn WI
Elm Grove, WI
Evansville WI
Fitchburg WI
Fort Atkinson WI
Foxpoint, WI
Franklin WI
Germantown WI
Glendale, WI
Grafton WI
Greenfield WI
Greendale WI
Hales Corners, WI
Hartford WI
Hartland WI
Horicon WI
Janesville WI
Jackson WI
Jefferson WI
Juneau WI
Kenosha WI
Kewaskum WI
Lake Geneva WI
Lake Mills WI
Lannon, WI
Lisbon, WI
Lodi WI
Madison WI
Marshall WI
Mayville WI
McFarland WI
Menomonee Falls WI
Mequon WI
Middleton WI
Milton WI
Milwaukee WI
Monroe WI
Mukwonago WI
Muskego WI
Mt. Horeb WI
New Berlin WI
Oak Creek, WI
Oconomowoc WI
Oregon WI
Ozaukee WI
Paddock Lake WI
Pardeeville WI
Pewaukee, WI
Pleasant Prairie WI
Port Washington WI
Portage WI
Poynette WI
Racine WI
River Hills, WI
Saukville WI
Shorewood, WI
Slinger WI
South Milwaukee WI
St. Francis, WI
Stoughton WI
Sturtevant WI
Sun Prairie WI
Sussex WI
Theinsville, WI
Twin Lakes WI
Union Grove WI
Verona WI
Waterford WI
Waterloo WI
Watertown WI
Waukesha WI
Wauwatosa WI
Windsor WI
Winthrop Harbor WI
West Bend WI
West Allis WI
Whitefish Bay, WI
Whitewater WI
Williams Bay WI
Antioch IL
Belvidere IL
Grayslake IL
Gurnee IL
Harvard IL
Lake Forest IL
Lake Villa IL
Loves Park IL
Machesney Park IL
McHenry IL
North Chicago IL
Poplar Grove IL
Rockford IL
Rockton IL
Roscoe IL
South Beloit IL
Wadsworth IL
Waukegan IL
Winnebago IL
Zion IL