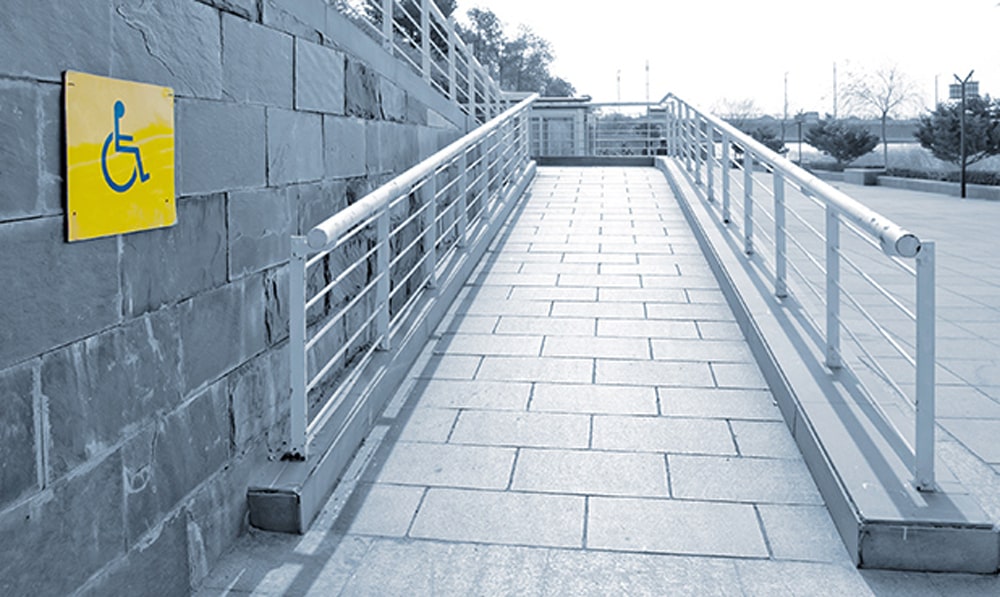 The Milwaukee concrete contractors at MUDTeCH offer the best solutions for concrete curb repair and installation southeastern Wisconsin and northeast Illinois. Homeowners and business owners who contract MUDTeCH for concrete curb repair services consistently find their repairs saved them hundreds, if not thousands, of dollars. We never cut corners with our concrete curb repair services. We take the time to thoroughly remove the broken curb, refill and compact the base, and install a durable and dependable repaired concrete curb.
MUDTeCH also offers the best concrete sidewalk repair and installation services for homes, businesses, and municipalities throughout southeastern Wisconsin. Relying on MUDTeCH for all your concrete repair and installation eliminates the hassle of dealing with multiple contractors.
Wisconsin Concrete Wheelchair Ramp Repair and Installation
MUDTeCH's Milwaukee concrete contractors provide the best concrete wheelchair ramp repair and installation services for Wisconsin homes, businesses, apartment buildings, and condominium complexes. A smooth and evenly graded wheelchair ramp makes building access easy for disabled individuals. A ramp also facilitates receiving shipments. Sinking or tilted concrete ramps can be easily raised and evened with MUDTeCH's Milwaukee mudjacking services.
Unlike some Milwaukee concrete installation companies in Wisconsin, when MUDTeCH™ replaces a concrete slab, you can count on the whole slab being the depth we say it will be. Using gravel fill in the center of a concrete slab replacement is dishonest and it's not how we do business.