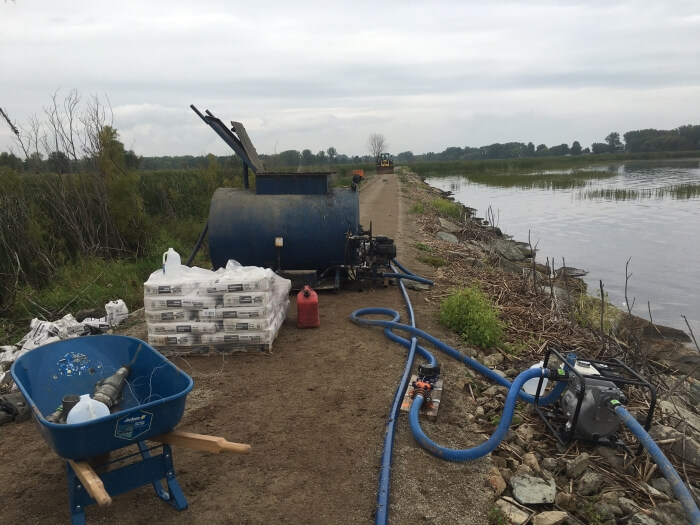 MUDTeCH primarily provides construction services in Wisconsin including Milwaukee to Madison, Eau Claire and the Fox Valley (Appleton, Oshkosh, Green Bay). As a full-service civil engineering firm we will travel throughout the Midwest to help you quote and complete your job.
An aquifer is an underground water source. Natural aquifers are comprised of rocks that allow underground water to flow easily into wells and springs. Because different types of rocks have differing levels of porosity and permeability, the way water moves around underground varies.
There are certain situations when a man-made aquifer is advisable. Our engineers can design and install artificial aquifers to better manage groundwater resources. We can also perform an artificial recharge of an aquifer in order to increase the natural replenishing of surface waters into groundwater aquifers.

In addition to building aquifers, MUDTeCH can create infiltration basins (aka recharge basins) to manage stormwater runoff by infiltrating it into the groundwater aquifer. Because every job has its own unique parameters, we recommend contacting us to discuss your project. Once we know what is involved, we can provide a cost estimate.
For more information and pricing on artificial aquifer construction, contact a MUDTeCH engineer now.
Disclaimer: The content above is informational and not intended to be scientific breakdown of exactly what your project needs. No matter how developed your plan, MUDTeCH will bring expertise to your design-build project. To speak with a specialist, call 262-337-0934 today.
Additional Commercial Services From MudTech
MUDTeCH™ does more than install helical piers. We provide a variety of commercial services across the Midwest, including: