Subsurface/Underground Dam Construction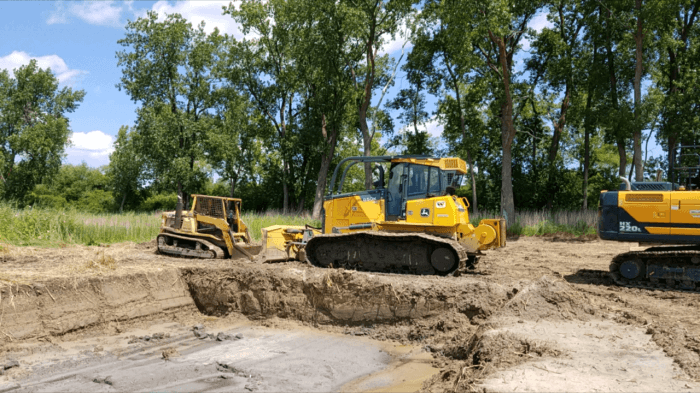 MUDTeCH primarily provides construction services in Wisconsin including Milwaukee to Madison, Eau Claire and the Fox Valley (Appleton, Oshkosh, Green Bay). As a full service civil engineering firm we will travel throughout the Midwest to help you quote and complete your job.
Subsurface, or underground dams block the flow of groundwater in order to store it in an aquifer. For this reason, they are often referred to as groundwater dams. Although Wisconsin doesn't have extremely arid conditions, these dams are useful in our region for storing water below ground level in rural areas where it will be needed during dry periods.
Unlike surface level dams, subsurface dams are not subject to evaporation or contamination, don't require alteration of the land, and cannot cause flooding if they break. These dams are widely used on ranches in the desert southwest and in arid, Middle East countries, but also make sense here in the Midwest if you need to ensure a supply of water for periods when it may not be as readily available.

Related Services available from MUDTeCH
Slurry Wall Construction
Aritificial Aquifer Construction
404 & Floodplain Permitting For Construction
Lake/Pond Construction
Ditch Digging & Excavation
Levee/Dike Construction

For more information and pricing on subsurface dam construction, contact a MUDTeCH engineer now.
Disclaimer: The content above is informational and not intended to be a scientific breakdown of exactly what your project needs. No matter how developed your plan, MUDTeCH will bring expertise to your design-build project. To speak with a specialist, call 262-337-0934 today.
MUDTeCH invites you to check out this successful commercial helical pier installation. Our helical piering contractors provided a permanent deep foundation solution for this industrial building. From asphalt repair and sealcoating to concrete installations and basement waterproofing, you can depend on MUDTeCH.
View Our Project Gallery
Bayside, WI
Bay View, WI
Beaver Dam WI
Belleville WI
Beloit WI
Brodhead WI
Brookfield WI
Brown Deer, WI
Burlington WI
Butler, WI
Caledonia, WI
Cedarburg WI
Clinton WI
Columbus WI
Cross Plains WI
Cudahy, WI
DeForest WI
Delafield WI
Delevan WI
East Troy WI
Edgerton WI
Elkhorn WI
Elm Grove, WI
Evansville WI
Fitchburg WI
Fort Atkinson WI
Foxpoint, WI
Franklin WI
Germantown WI
Glendale, WI
Grafton WI
Greenfield WI
Greendale WI
Hales Corners, WI
Hartford WI
Hartland WI
Horicon WI
Janesville WI
Jackson WI
Jefferson WI
Juneau WI
Kenosha WI
Kewaskum WI
Lake Geneva WI
Lake Mills WI
Lannon, WI
Lisbon, WI
Lodi WI
Madison WI
Marshall WI
Mayville WI
McFarland WI
Menomonee Falls WI
Mequon WI
Middleton WI
Milton WI
Milwaukee WI
Monroe WI
Mukwonago WI
Muskego WI
Mt. Horeb WI
New Berlin WI
Oak Creek, WI
Oconomowoc WI
Oregon WI
Ozaukee WI
Paddock Lake WI
Pardeeville WI
Pewaukee, WI
Pleasant Prairie WI
Port Washington WI
Portage WI
Poynette WI
Racine WI
River Hills, WI
Saukville WI
Shorewood, WI
Slinger WI
South Milwaukee WI
St. Francis, WI
Stoughton WI
Sturtevant WI
Sun Prairie WI
Sussex WI
Theinsville, WI
Twin Lakes WI
Union Grove WI
Verona WI
Waterford WI
Waterloo WI
Watertown WI
Waukesha WI
Wauwatosa WI
Windsor WI
Winthrop Harbor WI
West Bend WI
West Allis WI
Whitefish Bay, WI
Whitewater WI
Williams Bay WI
Antioch IL
Belvidere IL
Grayslake IL
Gurnee IL
Harvard IL
Lake Forest IL
Lake Villa IL
Loves Park IL
Machesney Park IL
McHenry IL
North Chicago IL
Poplar Grove IL
Rockford IL
Rockton IL
Roscoe IL
South Beloit IL
Wadsworth IL
Waukegan IL
Winnebago IL
Zion IL