MUDTeCH primarily provides construction services in Wisconsin including Milwaukee to Madison, Eau Claire and the Fox Valley (Appleton, Oshkosh, Green Bay). As a full service civil engineering firm we will travel throughout the Midwest to help you quote and complete your job.
Slurry Wall Designs Provide Long Term Groundwater Control Solutions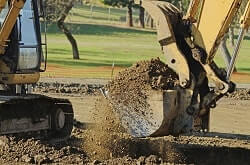 Slurry walls are non-structural barriers constructed underground to control groundwater flow. When you have to build or expand in an area close to water or with a high ground table, using slurry is one way to allow for easier construction. MUDTeCH™ contractors have experience using slurry to lay foundations and reinforce concrete walls across the Midwest. These barriers are designed to stop contaminated groundwater or divert uncontaminated groundwater and support excavation and structured buildings.
Slurry Wall Construction
Slurry wall construction requires a trench to be excavated and then filled with slurry, an engineered fluid usually composed of water and bentonite. Over time, an additional mixture of water, bentonite, and soil is used to fill the trench. The fluid applies pressure against the trench walls preventing them from collapsing during the construction process. Reinforcements are added to the trench as the slurry mix is replaced with concrete.
Trench widths and depths can vary in size depending on the construction project. Typical widths are found between 1.5 to 5 feet and up to 100 feet. When trenches exceed 100 ft., specialty machinery and equipment is needed such as a clam shell bucket excavation. The expert contractors of MUDTeCH™ will calculate the exact size trench your site will need in order to save time when work begins.
Slurry walls are used as:
Water and seepage control for deep excavations
Cut-off curtains
Contaminated groundwater / seepage control
Gas barriers for landfills
Slurry Wall Considerations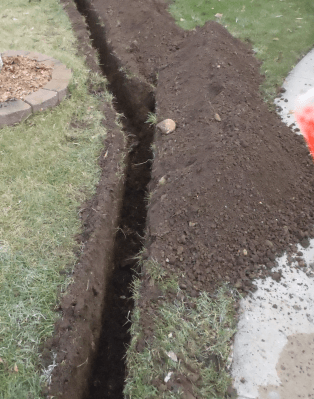 With any deep foundation system, it is crucial all your requirements will be met. With the various structural systems used today, discussing all options with a professional deep foundation repair company prior to your new construction is highly recommended. At MUDTeCH™, our team will recommend the right system for your project. Although a slurry wall design is a leading solution to groundwater control and structural stabilization, there are a few factors to consider:
Installation involves a large amount of heavy construction thus requiring the room and equipment necessary
Only contaminants within a specific area can be contained.
Deterioration is possible over time
MUDTeCH™ employs highly trained slurry wall contractors with the skillset and proper machinery to accurately build a cut off wall design to meet your needs. Contact our Milwaukee based slurry wall specialists today to receive a long term groundwater control and structural support solution. MUDTeCH™ is technologically advanced in deep foundation system solutions and conveniently serves cities throughout Wisconsin, Illinois and the rest of the Midwest.
For long term groundwater control solutions, contact our slurry wall contractors of Wisconsin today for a free quote.
Disclaimer: The content above is informational and not intended to be scientific breakdown of exactly what your project needs. No matter how developed your plan, MUDTeCH will bring expertise to your design-build project. To speak with a specialist, call 262-337-0934 today.
Our services are all intended to make your commercial construction project easier to handle. From drilling helical piers into the foundation to mudjacking existing concrete, we are ready to help you. Call our contractors today to learn more about each of our commercial services.
Additional Commercial Services From MudTech
MUDTeCH™ does more than install helical piers. We provide a variety of commercial services across the Midwest, including: